By Chinenyeh Ozor
The Federal Road Safety Commission (FRSC) has said that 90 per cent of road accidents in the country was as a result of alcoholic drinks, hard drugs among others factors.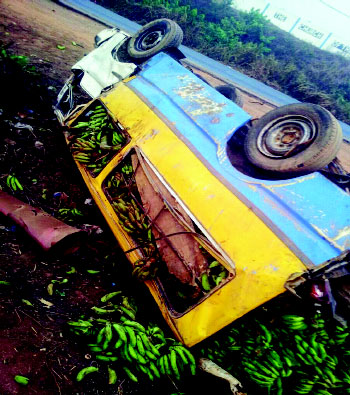 Mr Shuaibu Bello, the Unit Commander, Nsukka disclosed this in Nsukka on during the 2017 flag-off of Ember months campaign rally titled "Right to life on highways, Not Negotiable" aimed at educating drivers, motor-cyclists , tricycle drivers and other road users on how to imbibe safety culture while driving.
Bello said some of the human factors that resulted in road crashes were drivers over-speeding, lack of concentration, tiredness, driving under the influence of alcohol and dangerous over-taking on the highway.
He urged transporters and National Road transport workers to ensure that drivers obey road signs and traffic laws by ensuring regular training of drivers.
"Research have shown that human factors contributes 90 per cent of road accidents that have consumed lives and rendered millions physically challenged.
"And a good drivers before embarking on any journey would check the state of vehicle to ensure its worthiness for the trip. he said
Bello further revealed that the country recorded 9494 accidents in 2016 out of which 2638 were fatal that resulted in the death of 5053 people while 1423 were minor cases, adding that some of the accidents were avoidable if proper cautions were taken.
The Enugu Sector Commander of FRSC Mr Edward Zamber represented by the state sector operation , Mr Jude Eke urged drivers and other road users to drive safely during the ember months adding that FRSC would continue to do its best to ensure safety on the roads which will go a long way to reduce number of accidents.
Zamber advised Nigerians to resist the temptation alcohol and other drug, describing those who sell alcohol inside motor parks as agents of darkness that want drivers to involve in accidents.
In his remark the chairman of Nsukka LGA Chief Ejike Asadu commended the FRSC for the rally noting that taken caution and obeying traffic rules would help immensely to prevent accidents
Asadu however expressed disappointment that commercial drivers, motorcyclists and tricycle drivers that were the target of the rally did not attend the rally in their numbers, saying: "The FRSC is doing its best to help ensure sanity in our roads we should assist the commission as safety on our roads must be everybody's concern.
Subscribe for latest Videos