By Peter Duru
MAKURDI—Barely 24 hours after the commencement of implementation of the Open Grazing Prohibition Law in Benue State, herdsmen have killed one Ortse Kwaghdoo and also severely injured 70-year-old Hingier Akaa at Tombo ward, Gaambe-tiev in Logo Local Government Area of the state.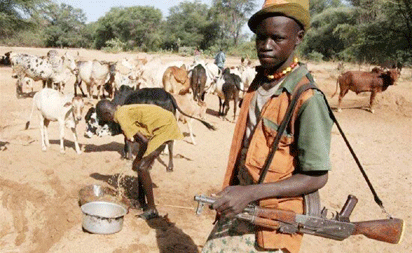 The attackers, who reportedly struck early Wednesday, also left many injured, while several others have been declared missing and uncounted for.
An eyewitness, who spoke on condition of anonymity, said the body of late Kwaghdoo has been deposited at a mortuary at Ayilamo, a nearby village, while the injured septuagenarian was responding to treatment at a public hospital also in Ayilamo.
According to the eyewitness, "we had raised alarm over the presence and influx of strange herdsmen in Gaambe-tiev. They have moved in thousands with their cows and settled in Ukemberagya/Tswarev council ward at Zaki Hemem, Tyo-Afia, Tse Gusa, Tse Agir, Ordughga Nagwa, Tsafa, Chia Orabum and Jootar axis.
"In Mbagber ward they are at Gov-Uwev environ, while in Tombo council ward they are at Azege, Anyibe and Fanu axis.
"We are appealing to the authorities concerned to mobilise security to the border areas to curtail further carnage by these marauders.
"We appreciate the Security Adviser to the Governor, Colonel Edwin Jando's directive to get Ortse Kwaghdoo's killers, but security needs to be deployed to the areas as farmers are yet to harvest their crops, which are being destroyed by the herdsmen and their cows."
Govt, Police confirm attack
Contacted, Security Adviser to Governor, who is also the State Chairman, Task Force on Implementation of the open grazing law, confirmed that there was an attack in the area.
Confirming the incident, the Police Public Relations Office, Assistant Superintendent Moses Yamu, said: "We received a report that on November 2 there was an attack on Azege village in Logo, when suspected herdsmen passed through the community in the early hours of the day.
"The Divisional Police Officer and Mobile Police Men stationed at Ayilamo quickly moved in, discovered that one 40-year-old Otte Kwaghdoo was killed, while 70-year-old Hingir Akaa sustained injuries.
"The corpse was deposited at NKST mortuary, Ayilamo, while the injured is receiving treatment. However, one Gambo Ahmadu was arrested with a locally-made pistol with three live cartridges. Investigation is ongoing.
He said the Command appeals for calm as proactive measures have been put in place by the state government and other security agencies to tackle any incident.