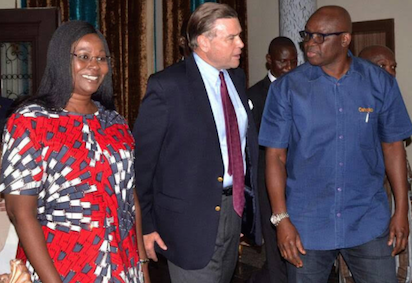 US Ambassador to Nigeria, Mr Stuart Symington (middle), Ekiti State Governor, Mr Ayodele Fayose (right) and his wife, Feyisetan (left) when the Ambassador visited the Governor at the Government House in Ado Ekiti on Tuesday
…as Ambassador
The United State of America (U.S.A) ambassador to Nigeria, Mr. Stuart Symington has assured that his country will work with all stakeholders in order to ensure that the July 14, 2018 gubernatorial election in the state is free, fair and credible. This was also as he commended the governor of Ekiti State, Ayodele Fayose on laudable infrastructural development in the state.
Symington, who visited governor Fayose alongside his aide, Mima Torres, and was received with pomp at the Ayoba House in the governor's office, said he was impressed with the patriotic zeal of Nigerians, saying: "
Nigeria, are proud to be Nigerians, when you ask them what they love most about their country, they would say it is our our resilience, energy, diversity, unity and friendliness"
The U.S envoy who told governor Fayose that his three years in office has been keenly observed by his country said the infrastructural development strides of the governor is commendable.
Stating the purpose of his visit to the state, Symington said: "We are in Ektiti because we believe in Nigeria, every state, every corner matters. We have seen what you have done in the last three years, it is very commendable.
Our concern in U.S is that we want to see leaders who care about others and not themselves."
Symington also urged Fayose to support to ensure support for Ekiti woman who are interested in Agriculture, he revealed that the U.S is particularly interested in what programme governor Fayose has for the Nation as a presidential hopeful.
He stressed on the need for free, fair and credible elections, and promised that the U.S will ensure that subsequent elections in Nigeria, particularly in Anambra and Ekiti States are free and fair and credible.
" The U.S will work with other stakeholders to ensure that elections are free, fair and credible in Nigeria. We believe that we must have elections where people will be ready and willing to participate in, that is, a peaceful and orderly election, "Symington said.
Responding, Governor Fayose said the major problem retarding the growth of the country was poor attitude by the people and the insincerity of leaders
He decried a situation where those claiming to be fighting corruption do so with some people being their targets.
He recalled that despite many allegations and petitions against the immediate past governor of the state, Dr Kayode Fayemi, he has not been investigated or charged to court because he is a chieftain of the ruling All Progressives Congress. He also decried the various intimidation, harassment and illegal detention of Ekiti government officials by ruling federal government agents.
"Our greatest challenge is not corruption but insincerity of leaders. Those claiming to fight corruption are not sincere. Without justice, we can't move forward. There must be equity in the way we do things. Being selective in the fight against corruption will not take us anywhere.
On his presidential ambition, Fayose assured the U.S envoy that he is eminently qualified to rule the nation: "I have the required experience to lead this country. I have worked with the presidents we have elected into office in this country and am able to manage the economy of my state despite lean resources. In the US and the UK they ask you your experience when seeking for a job not your paper qualifications. I have managed a poor economy in my state and that shows my ability to deliver," he said.
On the coming governorship election in the state, Fayose said the opposition would not be able to win 10 out of the 177 wards in the state. He urges the U.S to ensure the Nigerian government allows a free and fair election. He assures that his government and party would play the game with fairness.
"We are in firm control and the people are in our support. We just want to appeal to America and the international community to keep an eye on the poll. We don't want INEC to come to our state with preloaded card readers or manipulate the process. We are sure to repeat the victory of 2014 when we won on all local government areas," he stated.
The governor also urged the U.S envoy to give special consideration to Ekiti indigenes who are awarded government scholarship for studies and training in U.S, saying denying them visas on grounds that they may not return isn't helping the situation. He assured U.S that all indigenes, whose traveling is okayed by his government are well behaved people.