Elder statesman, Arc. Gabriel Aduku has hailed Governor Yahaya Bello, describing him as a "courageous leader who has been fearless in fighting corruption in the state".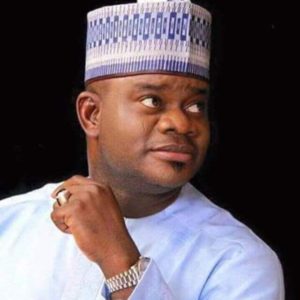 Aduku gave the commendation while he led a delegation of Kogi East Elders to the Governor at Government House, Lokoja. He said the Elders are "satisfied" with the "necessary reforms" in the State civil service.
According to him, the Forum is not unaware of the for in the civil service, saying the decision of the Governor to purge the civil service of ghost workers is not only timely, but necessary to reposition the system.
Responding, the Governor called on the Elders to continue to promote unity and oneness in the state, saying his door will always be open for elderly advice on how to move the State forward.
Bello said his determination to banish the ghost of disunity in the State was borne out of a genuine desire to promote excellence and togetherness. He assured the elders that his administration will continue to develop all parts of the State.
In his words, "We met a near comatose system in assumption of office but we are turning things around. If our generation fails Kogi State, posterity will not be kind to us. I have taken it upon myself to do what is right for our state in order to guarantee a great future for children unborn.
"I urge you to always verify information as we shall be ready at all times to listen to agitation, advice and even criticisms that is aimed at making us better. Kogi belongs to all Kogites and my administration has imprinted the Kogi spirit of excellence in all Kogites. Without unity, development is a tall dream".
Governor Bello said his decision on the Kogi State University was aimed at saving the educational career of the students in the institution, insisting that the decision has "restored sanity" to the great institution.
Shortly after the visit, the Governor inaugurated the Kogi State Elders Advisory Council. The Council is to advise the Governor on government policies.
At the inauguration, the Governor said the advice of the Elders will "oil his administration's resolve to make Kogi better".
Earlier, former Senator representing Kogi West, Smart Adeyemi said the Governor has shown clearly that he was well prepared for the task of moving Kogi forward.
"From infrastructure to agriculture and civil service reforms, the Governor has proven he was well prepared to execute the New Direction Agenda of his administration. I congratulate the Governor for making us forget the pains of the past", he said.