YAHCLICK seems unknown to the common man as an internet provider, are you upscale?
At the very basic level, the way we enter into the market, we don't only need licences; we work through licensed internet service providers throughout the market we operate. So it means one of two things in some of these instances they like to take our product and bundle it into a suite of their own products and they give it other names and other monolithic brands that they market under. The second is because of that we have spent more time working with our partners as opposed to furthering the brand within the market.
What we have realized, however, is that in the market we operate, the brand is pervasive, and we have seen positive attractions, so we have started to invest more in the YahClick brand through the market, so whether it be in conversations with the press, through radio or local media, there is something we looking to change; we don't want to take over what our partners are doing that's valuable in the market but our brand does have equity and we want to see it move higher up in the market.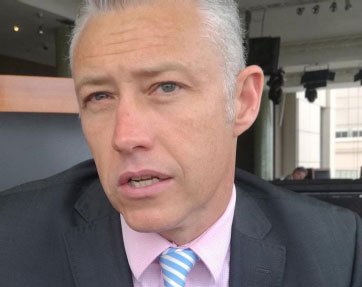 It is not a consumer brand and it is not an enterprise of speed brand for us, it is about saying; where is access to traditional broadband not available? So it is independent of industry. For example, if you look at the Lagos market, well covered on wireless solutions to terrestrial, Farther, LTE, our partners and competitors are doing an excellent job connecting the likes of Lagos. But as you start moving into environments where Becall and Farther are not available, our brand dominates there and that is really the starting point for us.
We want to focus in areas that are underserved, it doesn't have to be rural, it is places where people do not have access to telephone, data or broadband, and it is in those areas that you will see that our brand will rise to the top. Brand is important for us but it is not the be all and end all, it is making certain that those that do not have access to internet or broadband have access. By giving them that access, we create strong enablement of their lives; it empowers them at an economic level, to create some level of transacting wealth.  Brand I important but it is not the be all and end all.
With all the bottlenecks and impediments that have hindered the traditional operators from getting to hinterlands, how are you going to do it, provide satellite services?
First off, Africa is a tough place for broadband connectivity to roll out and that is because it is a diverse continent; has different topography, high no metro urban areas and as such is very difficult to roll out farther and LTE in these areas. Satellites, based on the footprint we have, our current footprint the length and breadth of the Nigerian market and we got another satellite which launches in Quarter four of 2017 and the interesting part about it is the launching off the West Coast of Africa on 20 degree longitude, as such it provides massive capacity and coverage for West Africa, Nigeria in particular. It is called ALYAH 3. We will have commercial services available at the end of quarter one of 2018.
It then means that the length and breadth of Nigeria is covered so we don't have the traditional constraints of having to lay farther in some volatile territories. We can provide service where LTE in places where not available, to aid organisations. To do that, we work very closely with entities like USPF and as an example we are busy rolling out a school's program in some of the Northern territories by the USPF contract where we are connecting local schools that have no connectivity. So there is no LTE, broadband, no wireless, we use all our partners locally to do that, so there we got funding opportunities and we roll our serices to these areas and connect these schools. We did go one step futher and we did create onschool so that kids go to school, there is new curriculum, new technology, that are available and the curriculum is up to date …..that Is a good example of how our model operates, if we didn't have satellite, we couldn't lay father to the school, we couldn't go and that's where we set ourselves apart from the traditional broadband solution.
Apart from USPF, are there other traditional operators that you are carrying along In trying to see that what you are doing is pervasive because Africa and Nigeria is very huge and you alone cannot do it all by yourself?
Absolutely. As I mentioned our astrology in all the countries throughout Africa is that we operate through local partnerships and at a very simplistic level we look at the environment we operate in and we look at the key market segments, the key geographies and we going to seek our partners that operates at exceptional levels in those industries.
So for example if oil and gas was an industry that we tucked in we will look for a partner that has a track record in oil and gas a partner that is competent in that industry, a partner that has strong relationships and we will partner with them to provide services to it, likewise in the education and in the health sector we sort out partners that are competent there.
So every instance in the Nigerian market we have partnership with at least five key local internet service providers that have a strong track record to go and Implement services in the market and we assist them with that and we are always seeking out new opportunities, we trying through these partnerships and we have a local country executive that works looks after Nigeria his role really is to meet with key government officials to understand how else we can be of assistance.
In doing what you are doing, which is fantastic, you may be going head on in competition with companies like ACS, are they your competitors or do you have collaboration with them?
When we talk of competition we talk two recent principles, one is in category competitor and one is out of category competitor. An in category competitor would be a traditional Vsetting satellite operator, we compete with them, I guess we compete with whole satellite operators and if you talk out category which means the likes of MTN, Globacom, SMILE, etc and yes you could say that there are competitors in the same, they operate in the same industry like broadband but we have no oval desire to compete with the mobile operators in the markets.