By Nwafor Sunday
The National Coordinator APGA Media Warriors Forum, Evang Chinedu Obigwe, on Tuesday advised Anambra people to vote for Governor Willie Obiano who has a wonderful socio-economic cum political mission to complete before 2022, noting that a vote for any of his political opponents is synonymous to committing a political suicide.
Obigwe who described governor Obiano's opponents as selfish and visionless politicians, added that nothing good comes from them except taking Anambra back to another moribund state.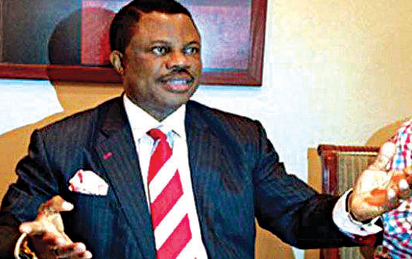 In a press release issued to pressmen, Obigwe said "I advise you to vote for Gov Willie Obiano, I advise you to vote for continuity, I advise you to vote for APGA. Obiano's plan is to make Anambra state the light of the nation and home for all. Note that his opponents are visionless, clueless and selfish. They will take the state backwards if voted into power. It will be more or less a calculated political suicide if you mistakenly vote for any person outside Gov Willie Obiano", he said.
Obigwe harped on the need for the people of the State to vote for continuity, stressing that it will help Governor Obiano to consolidate his achievements in Anambra State.
Speaking further, he said that Governor Obiano among all the contestants vying for governorship position is the only outstanding person that can move Anambra State forward.
"Obiano has justified the confidence reposed in him by Anambra electorates and deserves to be rewarded with re election to complete his vision 2022 for the state", he said.
Describing Obiano's characterization, Obigwe said "His Excellency's greatest selling point is that he is a man whose words are his bonds, a man whose heart is overflowing with milk of kindness.  He is our political Joshua that will finally take Anambra state to that promise land", he said
He further advised the people of the State to avoid falling into the trap of disgruntled opposition politicians in the State who are practically selfish aggrandized with an evil intention of turning aback the state.
"With Governor Obiano at the echelon of Anambra government till 2022, Anambra will continue to live up to the worlds expectation as the light of the nation and home for all in Nigeria. " But first let's re-elect him to continue his good works", he finally added.