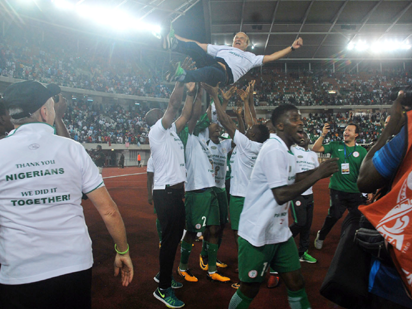 FOOTBALL Association of Zambia (FAZ) president Andrew Kamanga has said that the rules and regulations governing the game made it difficult to appeal against Botswana referee Joshua Bondo  who officiated the game between the Super Eagles and Zambia in Uyo last Saturday.
With soccer fans and some other stakeholders calling on FAZ to lodge in an appeal over Bondo's decision to recall Augustine Mulenga's goal for offside, Kamanga said the association would not appeal because the referee's decision was final.
Kamanga said that the referee's decision was final and could only be overturned by FIFA if they believe external forces were used in a game.
He said in an interview upon arrival at the Kenneth Kaunda International Airport (KKIA) that the FIFA rules were clear on the matter and quoted Article 6 which states;
"No protests may be made about the referee's decision regarding facts connected with play. Such decisions are final and not subject to appeal, unless otherwise stipulated in the FIFA Disciplinary Code".
Kamanga said FAZ would have loved to appeal the disallowed goal but was restrained by the rules and regulations of the game.
"Where there is reason to believe that a referee has made a mistake, there are enough safeguards within the system. We have referee assessors and match commissioners that make reports. You can't overturn the referee's decision and that's how we find ourselves constrained," Kamanga said.
He said FAZ had consulted widely from match commissioners, FIFA officials and Zambian referee Jan Sikazwe before reaching a conclusion on the matter.
"The referee's decision still stands, FIFA will only overturn the decision if there were external forces that influenced the game," Kamanga said.
He said the appeals processes was very simple and that FAZ had appealed before citing the Guinea-Bissau case when it believed their opponents used an illegible player.
And Zambia Sports Fans Association chairperson Peter Makembo said there was no need to cry over spilled milk but move on and prepare for the next challenges.
"Much as it is a bitter pill to swallow, crying over it won't help but let us reorganise ourselves and prepare for upcoming events because everyone watched and saw what happened. If FIFA will rule in our favour it will be a bonus. We have a good team to qualify us next time," he said.