Enough is enough —Buhari
By Jonhbosco Agbakwuru & Marie-Therese Nanlong
Jos—No fewer than 29 persons, mainly women and children, were, yesterday, killed in an attack by suspected herdsmen in Nkiedonwhro village of Irigwe chiefdom in Bassa Local Government Area of Plateau State.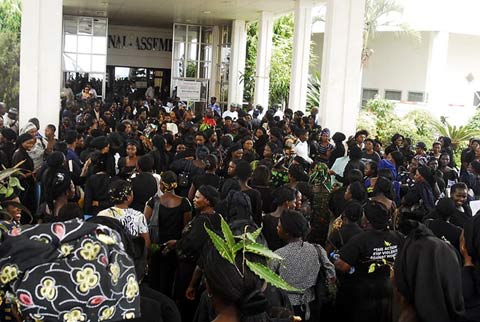 Three others sustained various degrees of injuries.
It will be recalled that several attacks had been carried out by herdsmen in villages, forcing Governor Simon Lalong to declare a dusk-to-dawn curfew in the local government area.
However, despite the curfew declared last Friday, night attacks have persisted in the villages with many residents already fleeing the troubled area.
The President's position
Meanwhile, President Muhammadu Buhari has directed the military and the Police to put mechanism in place to ensure that there is no reprisal attacks in Plateau State.
President Buhari, who was reacting to the killing of about 29 persons by herdsmen, said the madness should not be allowed to continue.
In a statement by the Senior Special Assistant to the President on Media and Publicity, Garba Shehu, the President said he received, with deep sadness and regret, news of the killings of over 20 persons.
According to the statement, "President Buhari believes that this madness has gone too far. He has instructed the military and the Police to not only bring the violence to an instant end, but to draw up a plan to ensure that there are no further attacks and reprisal attacks by one group against the other.
"President Buhari is devoted to the sanctity of Nigeria's unity, and he encourages Nigerians of all groups to learn to live together in peace and harmony.
"He commiserates with the governor and people of Plateau State, and with those who lost their loved ones, friends and family: may God comfort them as only He can."
Army, Police keep mum
Spokesman of Operation Safe Haven, Captain Adam Umar, did not answer calls from his mobile phones, while his Police Command counterpart, Matthias Tyopev, said he was awaiting the report from the Divisional Police Officer of Bassa Local Government Area before talking on the issue.
However, President of Irigwe Development Association, Sunday Abdu, who confirmed the incident, claimed that the victims were taken to a classroom in a public primary school in the village by members of Operation Safe Haven, saddled with the responsibility of keeping peace in the area, only to be abandoned.
According to him, "what happened was annihilation; innocent people killed that way in cold-blood; they just wiped them out.
"The security men ushered the people into a classroom before the attack in the village. They later ran away and left the victims to be massacred by the assailants.
The mass burial is about taking place.
"How can you have personnel of the Federal Republic of Nigeria run away and leave the citizens? How and why? That is to tell you that we don't have security, it is a simple as that.
"Twenty-seven people have been confirmed killed, but someone told us that two more bodies have been discovered. I have not confirmed that yet.
Series of attacks
"Since the gruesome attack on Ncha village on September 7, there has been series of other attacks. Like Hukke, in September 9, two persons were killed; Nkyie Dongwro, October 8, one person killed, another wounded; Kpachudu, October 10, a young man killed by a Mobile Policeman.
"Nzhweruvo and Tafigana, October 11, three dead and houses razed; Rikwe Chongu, October 12, houses razed; Taegbe, October 14, six dead, five injured and houses razed; Nkyie Doghwro, October 16, 29 dead, three injured at a school used as camp and protected by security.
"It is painful that these happened despite useful timely information provided to security personnel regarding movement and mode of operation of the assailants.
"While no single attacker has been arrested by the security agents, they rather arrest and detain helpless natives on suspicion of possessing weapons, despite handset being found on the ground during the attack.
"We urge the government, if it must sustain the curfew, to do the needful and stop these nightly attacks on our people; our people cannot go to their farms anymore, even as harvest is near for fear of attacks by herdsmen, who openly graze on ripe crops."
Rep begs FG to intervene
Meanwhile, member representing Jos North/Bassa Federal constituency, Suleiman Kwande, called on the Federal Government to investigate the renewed violence in state, especially in the Irigwe Chiefdom.
In a statement Kwande said: "The native of the locality in the last few weeks have suffered unprovoked attacks. I call on the Federal Government to set up a committee to investigate the fresh killing of innocent persons, including children, women, men and the aged in a primary school, where they were taking refuge.
"Security agencies must wake up to their constitutional responsibility of protecting lives in the state; this evil must be stopped — enough of all the killings."
Survivor speaks
Meanwhile, a survivor, Samson Amos, who narrowly escaped death during the attack, told Vanguard: "It happened at about 8p.m. This attack is the second in the village. When they attacked us the first time, the military was stationed here to avoid a repeat.
"When we got wind of a likely attack yesterday evening (Sunday), we reported to the military and they told us to come and stay in a classroom that has been provided for them as operational base.
"We obediently went into the classroom to sleep. But some people were skeptical about this, so they left.
"Not long after we entered the classroom, the military left and not long after, the attackers came and we were trapped. They unleashed mayhem.
"I counted 27 corpses, two more who were in the hospital died and three others are still in the hospital being treated for various degrees of injuries. A mass grave has been dug to bury the people."
Asked about the identity of the attackers, he said: "You know we have co-habited with the herdsmen for a long time. It is easy to recognise them. We saw them and we know they are the ones killing our people. This is an incident which keeps recurring and there is room for a repeat.
"The protest that was held at Jebbu Miango last week was against the seeming lacklustre attitude of the military. The people don't have faith in the military anymore."
Subscribe for latest Videos