SLEEP, they say, is the golden chain that binds health and our bodies together. Many people complain of not sleeping well in the night or having backache or, bad dreams anytime they sleep. You can't sleep on a bed that gives you comfort and begin to have bad dreams. You can only have dreams of heavenly bliss.
As doctors will always advise, when you have a good sleep and a good laugh, you have the best cure for whatever diseases you might be having in your body. But when the bed is unattractive and uninviting, sleep will always be a burden. Your bed is the focal point of the space in your room and, as Homemakers, go beyond the conventional arrangement of bed with two or four pillows on your bed depending on the size.
Try getting different sizes of pillows with throw pillows and see the difference. You don't have to wait until you have the opportunity of visiting an hotel or a family friend's house that places comfort first in the bedroom arrangement. No matter the amount of money you have, you can still work within your limit to give comfort to you and your family.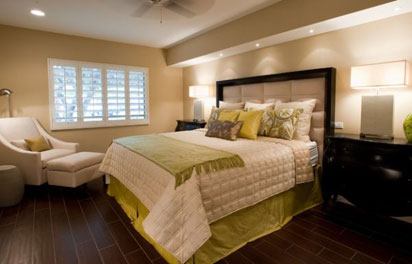 Bedroom arrangement
There are no set rules for arranging bed pillows. Anything goes. But I think one's personality comes into pillow play. Some people are messy, some are neat, some like exact order, some like a certain trendy look and some don't want to be bothered. But, if you are design-conscious, bed pillow is that little extra luxury that makes a bed so inviting and alluring. It makes a room more cohesive, interesting and comfortable.
When picking out your pillow arrangement, the size of your headboard is important to consider. You never want your pillows to come up over your headboard, so a lower headboard requires arrangements with a shorter profile. Likewise, taller headboards require arrangement with a longer profile.
Easy arrangement
How you arrange throw pillows on your bed depends on your taste and personality. You can go with these three simple styles but remember that balance is always an important part of mixing and matching. So, it's a good rule of thumb to keep in mind when you are shopping.
Stacked pillows. Stack flat at least two pillows on top of each other but if it is on 6″x6″ or 6″x7″ bed, you can stack four pillows but two pillows beside each other. This looks orderly, neat, no fuss, sleek and simple.
Standing pillows. Arrange at least five or more pillows standing on end. This can be in rows of the largest in the back to the smallest in the front which can be done by mixes of euro pillows and standard pillows with decorative pillows in front. This makes a big statement, stylish, and sumptuous
Use of 5pillow combination. Use three pillows in the very back, then two queen or king standard pillows in shams in the next row, then one smaller decorative pillow in the very front. It is always a great look and not too many pillows, but enough to look ample and stylish.
Worried where to put those pillows when you want to sleep?
If you've reached a certain age, especially from age 50 and above, you are probably no stranger to the aches and pains that seem to come out of nowhere, and tend to hit hard in the morning hours. Keeping your legs, hips, and back aligned properly while you sleep helps considerably to cut down on morning stiffness or soreness.
Morning stiffness
Use your toss pillows as night time positional to keep your spine happy. A pillow between your knees to reduce stress on your hips, a pillow behind your back to give your spine a bit of extra support, and a pillow under your arm to keep your shoulders happy.
Bolsters, the rounded long pillows shaped somewhat like a hotdog, are the best shape for use as night-time positional, so make sure to include at least one in your throw-pillow mix.
You can place your pillows in a chest, storage bench, or trunk at the foot of the bed if you have.If not, just arrange the pillows on the seat beside your bed for a little decorative touch. You can also look for some nice plastic storage bins that you can slide under your bed for your pillows.
Whatever solution you decide on, remember to restore the toss pillows to their position of glory once it is time to make your bed again and head out to face your busy day.
You cannot ignore throw pillows because of the impact they make in a room and on your health. Find your comfort zone and make them a great eye catcher for a blissful bed that's dreamy, defined, and divine.