By Monsuru Olowoopejo
I nternational diplomat and statesman, Chief Emeka Anyaoku topped his illustrious diplomatic career with his appointment as third Secretary-General of the Commonwealth in 1989. He had earlier served for three months as Nigeria's Minister of Foreign Affairs in 1983.
In this interview in his Lagos residence, the distinguished diplomat speaks on the state of the nation, noting that Nigeria must not hold on to a false sense of security even as he lists steps the country must take to pull back from the brink. Excerpts: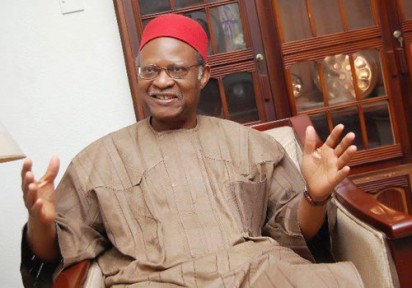 Do you think Nigeria can  survive the several challenges it is facing?
For me, I do not think we have ever been faced with this number of agitation and militancy since independence. Since the 1967 Civil War, I do not think this country has ever been as divided as it is now. So, I am not so sure that the notion that Nigeria will always be able to pull back from the brink will be valid under the present circumstances.
What is your reason for this?
I am not sure because these agitations, insurgencies and activities of Fulani herdsmen can lead to breakdown of law and order in different parts of the country at the same time. It may not be easy for our security forces to cope with all of them at the same time. Already, Boko Haram in the North-East is stretching our military. Now, the military is in the South-East for Operation Python Dance. And the same military is saying they may come to South-West and South-South for Operation Crocodile Smile. It is doubtful that they can sustain the efforts to deal with agitations and insurgency if they are to intensify.
In order to prevent breakdown of law and order, the Nigerian military embarked on Operation Python Dance in the South-East. What is your take on this?
In any country, the military should not be involved in domestic situations except in rare cases of emergency. Domestic law and order is a matter for the police. Of course, the military has to be involved in the North-East because Boko Haram has been waging war against Nigeria. It is debatable that the military should be involved in the South-East.
From all I have read so far, there has been no effort in the South-East to wage war against Nigeria. From what they claimed, there have been unarmed agitations and protests. Of course, the military came in because the agitations and protests are based on secession. This has serious security implication for the country.
Before secessionist agitations became worse, did you speak with leaders at different levels on the need to address their concerns?
I have not intervened on matters of these agitations. What I have been advocating is that we must restructure our governance architecture. I believe that these situations that are threatening the existence of our country can be more effectively handled if we restructure the governance structure we have at the moment.
In fact, I will say the cause of many of the challenges we have at the moment is the inadequacy of the governance architecture that we have. On the economic front, for example, the fact that we have 36 federating units means we spend up to 80 per cent of our revenue just on administration. No country has developed on the basis of allocating up to 80 per cent of its revenue to just administration.
Secondly, among the 36 states, only Lagos and to some extent, Kano can generate revenue to plan their development unlike what we had in the years after independence. With the 1963 Constitution, Nigeria was a true federation of four regions. Each region had its own constitution.
And each region was viable enough to sustain its own development. We were making greater strides in development. Then, we had in the Northern Region the famous groundnut pyramid, vast plantations of cotton that sustained the textile industry and high-quality hide and skins that were marketed abroad as Morocco leather. We had minerals like tin and copper in Jos, Plateau. Northern Nigeria was then making real reasonable progress in development. In Western Nigeria, the cocoa industry was boosted by the Chief Obafemi Awolowo Government to an extent that it enabled the Western Region introduce the universal free primary education.
The Western Region was the first to bring in television service in Africa. In the Eastern Region, Dr. Michael Okpara was boosting the production of palm produce in the country. Then, Nigeria was the largest producer of palm produce in the world. In the Mid-West Region, Sir Denis Osadebey was boosting rubber production. We had massive rubber plantations in the Mid-West, which encouraged Michelin to set up a tyre factory in Nigeria. Michelin has since closed down.
Some have kicked against restructuring on the claim that its consequence could be unpredictable for the Nigerian state?
I do not think the suggestion that restructuring Nigeria will lead to breakup is correct. Indeed, restructuring will create the basis for greater unity of the country. The suggestion that restructuring will lead to breakup is totally fallacious. What will lead to breakup is if these agitations are not dealt with.
The agitations include the plan of Boko Haram to set up a Caliphate System in the North, and the Indigenous People of Biafra (IPOB) wants to set up a state of Biafra. And the Niger- Delta militants are saying if their views are not upheld, they will declare Niger-Delta Republic. We had talks at the summit in Ibadan, and there were some elements that talked about Oduduwa Republic.
These are symptoms that underline dissatisfaction with the present structure of governance in the country. A restructured Nigeria will bring back the sense of nationalism and unity that existed in the immediate years after independence. Then the regions were competing for development in a healthy manner. There was no threat at all. No person complained of marginalisation except the Middle Belt. The idea that restructuring will lead to disintegration is a false idea.
How do we restructure Nigeria without conflict or breakup?
What I am saying is that we can restructure if the current pressure and clamour for restructuring are to be maintained. It is my hope that the Muhammadu Buhari Presidency will recognise the widespread nature of the clamour. Having done so, we proceed to set up a constitution drafting committee. I mean a constitution drafting committee that will be broadly representative of different sectors of this country.
It will start with the cultural groups which include Afenifere, Ohaneze, Arewa Consultative Forum (ACF) and Ijaw National Council (INC) among others. Representatives of traditional rulers, representatives of youths, representatives of women, representatives of trade unions and some constitutional lawyers must be included in the constitution drafting committee. The president can take the initiative to set up such a committee now and that committee or Constituent Assembly will then take the 1963 Constitution and also take account of changes that had occurred in the country since then.
It will consider the report of the national conference that was organised by President Olusegun Obasanjo. Indeed, it will consider reports of national conferences organised under the regimes of former President Goodluck Jonathan, Gen. Ibrahim Babangida and Gen. Sani Abacha. The committee will take account of all reports of the constitutional conferences and produce a draft constitution for a restructured Nigeria. And that draft constitution will be sent as an Executive Bill from the Presidency to the National Assembly.
The National Assembly will be asked to consider it and also provide legislation for a referendum which does not exist in the country's constitution. Once that is adopted, it would be put to national referendum. At the end of the process, we will have a constitution that can be truly described as we, the people of the Federal Republic Nigeria, have firmly agreed and solemnly resolved to …. This is very practical.
As the agitation for restructuring continues, what would be the consequence of not yielding to the call?
I am full of fear for the future of the country. Already, Nigeria is listed in the rank of potentially failed states. I find it absolutely unacceptable and totally worrying. I was in the service of my country when we all loved to say we were Nigerians. Then, Nigeria Passports were recognised and respected abroad. But now, our passport is treated with absolute lack of respect in many parts of the world.
How did we come to that? We arrived at that point because of current state of affairs in the country. And if that state of affairs is not adequately addressed through restructuring, the situation, in my view, will continue to get worse until possibly we become a truly failed state, which we all do not want.
Considering your status as former Secretary-General of Commonwealth, what message have you received from international community concerning the country?
First and foremost, we have a large diplomatic representation in Nigeria. The number of countries that have diplomatic representation in Nigeria is a large number. All the diplomatic envoys in Nigeria will be writing reports to their home governments, telling them what is happening in Nigeria. Already, there is evidence of Nigerians being deported so easily from many countries now than it used to happen.
This is practical evidence to show that the international community is not unaware of what is happening in Nigeria. I read in the newspapers recently that the European Union and the US Government did not regard the IPOB as a terrorist organisation. We give them cause to interfere in our domestic affairs.
As an internationalist, I resent that. I resent foreign interference in our domestic issues. But at the same time, I acknowledge that we gave them cause to interfere in our domestic affairs. When things were running well like the years after our independence, no country would intervene in our domestic affairs. There was no country that could make statements about Nigeria other than complimentary statements. But now, we have criticisms from abroad. That should be worrying.
With the 2019 general elections less than two years away, can we still restructure Nigeria before electioneering kicks off?
I do not think restructuring will affect the election in any way. Rather, I think if the Federal Government responds positively to the clamour, we can begin to take the steps I have outlined one after the other as soon as we enter into 2018. These steps could be completed before 2019 general elections. And the 2019 general elections will be held under a new constitution.
Barely two years ago, you initiated the Peace Accord between former President Goodluck Jonathan and President Muhammadu Buhari. Why did you embark on it?
Prior to that election, I was concerned then that if then General Buhari did not win the election, we would have violence not only in the North but also in other parts of the country. And that if former President, Goodluck Jonathan concedes defeat, there would be violence in the Niger-Delta. That was why I strongly moved for the Abuja Peace Accord which committed all presidential candidates principally to two things, first to discourage their members and supporters from employing violence during campaign and secondly to accept the result of the election.
Eventually, the country was saved. At the pre-Buhari inauguration banquet, you would recall that there were two speeches. Former President Goodluck Jonathan delivered the first speech. I delivered the second speech. I titled my speech Proposing the Toast to Democracy. In my speech, I made two main points. First, I said the country owes a debt of gratitude to Jonathan for having readily and willingly conceded defeat to Buhari.
The second point, which I made looking directly at Buhari, was to tell him that people voted for him not just on the basis of his campaign promises, but on the basis of people's perception of his character. I went on to list four attributes that attracted people to vote for him. First, they saw him as a disciplined individual. Second, they believed him when he said he would fight corruption.
Third, they admired his frugal lifestyle. I would say Buhari was the only Head of State who lived in a bungalow and who was not involved in ostentatious lavish partying. Fourth, the people believe that he genuinely cares for the welfare of the masses. That is why the masses fight and die for him. I expressed hope and expectation that his administration would be built with these attributes. I made these points in the speech I delivered at the pre-inauguration banquet on May 28, 2015.