President of the Association of Industrial Security and Safety Operators of Nigeria, AISSON Dr. Ona Ekhomu , yesterday , advised  the federal government to exercise extreme caution in the mass release of captured Boko Haram fighters.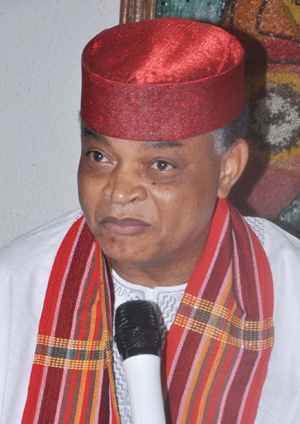 Rather, he said that releasing suspected insurgents should be based on concrete evidence of repentance and conversion to true Islam which extols peace.
Ekhomu, in a  statement issued in Lagos , also expressed fear on the possibility of the freed suspects to resume attacks , except  urgent steps were taken by the Federal government to assist the Borno state government  which the released suspects were handed over to.
He further described the recent  release of 760 Boko Haram suspects by the Joint Intelligence Center of Operation Lafiya Dole as rather hasty, pointing  out that  it would  worsen the threatscape of the region.
He said :   "The mass release of suspects without rigorous investigation of each suspect   tends to worsen an already fragile security eco-system. The JIC is an intelligence authority and not an investigative agency. The Criminal Investigation Department of the Military Provost would have been better placed to conduct these inquiries and make recommendations to the political executive for a final decision.
"Captured Boko Haram fighters will quickly assure their captors that they have experienced ideological rebirth as a survival mechanism, even when such assertion is untrue. However, these fighters are free to resume attacks after being handed over to the poorly-resourced Borno State government. This calls for building high security prison facilities in Borno State where suspects can be held for longer periods of time and be exposed to psychologists and moderate Imams who can work on their conversion to mainstream Islam prior to their release.
"The decision to release terrorism suspects must be made after careful psychological testing and evaluation by credentialed professionals. That should form the basis for the decision to reintegrate each fighter into civil society.
Borno State Government does not have the capacity to carry out the intricate assessment and evaluation of deradicalization and ideological reorientation of each Boko Haram fighter handed over to them."
He recalled that  in 2017 a total of 2603 Boko Haram suspects were released , adding that " Prior to the latest mass release, the activities of the previously released detainees should have been documented and analyzed to determine the performance of the mass release program. Without such  protocol,  the insurgent release program would appear to be opaque and arbitrary."
He therefore,  called on the Federal Government to adequately fund the security programs in the northeast, averring  that " the frequent mass release of suspects is based upon the fact that the military authorities are not equipped to indefinitely detain prisoners of war.
"Turning the suspects over to the Borno State government appears to be a way to transfer responsibility away from the military. Ironically, it's a nation that fights a war and not its military alone. In other words, other agencies are supposed to play their roles – the Police, the Prosecutors, the Judiciary and the Prisons. It is the general failing of these other agencies of state that is over-burdening the military and resulting in these questionable mass release programs that may have the unintended consequence of prolonging the war in the northeast."
He classified the  Boko Haram conflict  as a 4th generation warfare as and an  asymmetric warfare and  urged the Federal Government to be  aware of the paradigm shift in warfare, with a view to formulating  prisoner release decisions based on the realities of 4th generation warfare,
Ekhomu however,  lauded the efforts of the Military in the fight against insurgency but lamented  that  the military was being over-stretched by different internal security threats, saying " there is  no need to prolong the Boko Haram