By Chioma Obinna
For over 32 years, October has been tagged as Breast Cancer Awareness Month, BCAM.   Meanwhile, the myth that cancer is synonymous with death is fast changing. Today, cancer is no longer seen as a death sentence due to sustained awareness and treatment options in developed countries.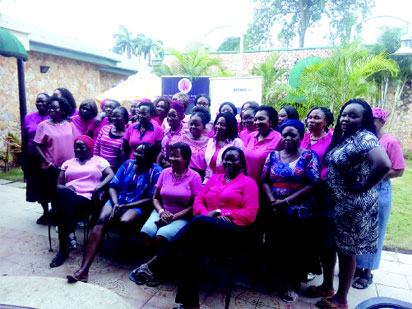 But, every year, no fewer than 100,000 new cases of cancer are diagnosed in Nigeria out of which breast cancer is the commonest, followed by cervical cancer.
In fact, cancer in women has risen significantly, especially in women who cannot afford mammogram to detect breast cancer early.
Sunday Vanguard was at this year's annual October Breast Cancer Awareness activity of a group of breast cancer survivors organised by the Care Organisation Public Enlightenment, COPE, where some survivors shared their stories.
65-year-old Mrs Mary was among those excited to share their stories.
According to her, it was a miracle she survived cancer for seven years without consistent income.
Her life was almost shattered when she was told she had breast cancer and required urgent surgery. Mary was not only gripped with fear about the disease but was dying from inside due to the financial involvement for a widow like her.
Her husband, who would have been a pillar of support, died over 20 years ago.   Struggling to train her children as a widow, life became difficult for her. Raising the money for treatment gave her sleepless nights.
"It was a miracle but I survived first year, second year and seven years on.   I trekked from Ikorodu where I live to Ketu because I was determined to survive," Mary stated.
"It is exactly seven years since I started this cancer race. But my hope was first in God.   One thing I held dear to my heart was the saying that He (God) is the finisher of every other thing in my life.   When this started, there was no helper but God; I went from one person to another asking for help. Some helped while some did not but I don't bear grudges against those who did not."
Meanwhile, she knew little or nothing about the condition.
But luck smiled on her one day after she began her radiotherapy treatment.
"I knew less practically nothing about cancer when I was diagnosed", she said.
"Mere thought of it alone was worrisome. I felt all alone.   But my perception changed one day when I saw a COPE flyer. I inquired about the organisation from the nurse who attended to me and she directed me to their centre.
Mary's first day at COPE support group meeting remained a factor in her surviving cancer against all odds.
"I went there and met the Executive Director, Mrs Ebunola Anozie, who welcomed me and counselled me. She said it was not the end of life", she narrated.
"From there, I regained my strength. I started coming to the support group meeting. That alone taught me a lesson that cancer does not respect anyone. I saw the young and the old, the big and the small. That alone gave me hope that I was not alone in the journey. I said to myself, 'If all these people with big qualifications are affected, then who am i?'
"COPE has been helping us with a token and free screening on monthly basis. Today, we are at this spa, having massage and having fun courtesy of the centre".
How it all began
According to Mary, her cancer journey began in 2011 like a joke.
"I was feeling somehow, so I decided to see a doctor. In the process, I told him that I was having pains around my breast region. He (the doctor) told me to do an x-ray. After it was discovered that I had a lump, I was operated on," she said.
But the doctor didn't counsel her to do laboratory test on the removed lump.
A year after, investigations showed the area of breast where the lump had been removed had become cancerous. Mary, who was hypertensive, almost died from heart attack as her blood pressure rose on hearing "you have cancer".
"I had to go to LUTH where I was operated on after which I went for oncology treatment and radiotherapy."
Cost of treatment
Mary claimed to have sold all she had in a bid to survive. How she managed to pull through the treatment, according to her, was a miracle.
"My treatment was supported by friends and little money from my children", she added.
She disclosed that several women suffering from breast cancer were dying, stressing the need for government to help victims.
"Many women even die once they hear they have cancer.   They die of lack of money".
Another major killer of cancer patients apart from money is lack of access to radiotherapy machine and the incessant breakdown of the few machines available.
Mary, who further lamented that her children had graduated from university but without jobs, said: "It is the little money they realise from the menial jobs they do that we use to eat".
Noting that she has completed the initial treatment, she explained that treatment for cancer does not just end as survivors are required to do regular checks and several tests once there are complaints.
She called on government and corporate organisations to declare state of emergency on cancer to ensure that obsolete cancer machines are replaced.
She also advised cancer patients to speak out in order to get assistance.
Smoking, alcohol, unsafe sex can increase your risk to cancer – COPE CEO
Lifestyle, such as smoking, drinking alcohol, excessive exposure to the sun, obesity, lack of exercise and unsafe sex, increases your risk to cancer.
According to the Chief Executive Officer, Care Organisation Public Enlightenment, C.O.P.E, Ebunola Anozie, changing bad habits can lower an individual's risk of cancer.
Although family history and the environment may contain harmful chemicals such as benzene, people should have enough rest and reduce stress to reduce cancer risk.
Noting that breast cancer is not a death sentence, she regretted that the major problem in Nigeria was the lack of infrastructure to treat cancer.
According to her, to get the treatment right, there is need to have a comprehensive cancer centre where people who have minor illnesses will not be competing with cancer patients as time is of essence to effective cancer management.
She stressed the need for government to be proactive and declare a state of emergency in cancer treatment.
"Let us even have a public private partnership in this regard. People are willing to pay but no tool to work with", Anozie stated.
"One key factor is epileptic power supply. Nigeria is faced with the problem of frequent breakdown of equipment due to erratic power supply, dust and the humidity among other factors".
The COPE CEO, who stressed that with the right infrastructure, early diagnosis would be made possible, said: "The reason we always preach early detection is that it gives you an opportunity to have a second opinion. Another thing is that you are able to choose the sort of treatment you want and you have a better opportunity to life and treatment is also cheaper."
Speaking on COPE annual programme to mark the Breast Cancer Awareness Month, she said the annual international health campaign is organized to increase awareness of the disease and to raise funds for research into its cause, prevention, diagnosis, treatment and cure.
While calling on corporate organisations to support cancer patients, she said:   "Access Bank is trying to see that women are getting assistance and present early, in order to reduce mortality and for them to live longer.   There is need to continue the development of more cancer management infrastructure which are limited".