…As more off-takers express interest
NEW Festac Property Development Company Limited, NFPDCL, concessionaire and promoter of the new Festac City known as Festac Phase two comprising 1,126 hectares of land in Egolima District beside 7th Avenue, Festac Phase 1, disclosed, weekend, in Lagos that investors, both foreign and local, are falling over themselves to key into the housing project that is expected to accommodate not less than 350 families, assuring that work has commenced in earnest.
Making the disclosure when members of Perfection Real Estate Investors Cooperative Society visited NFPDCL to express interest in partnering in the housing project described as a work class city expected to be delivered in eight years, Mr. Isaac Chuks, vice-chairman, New Festac Property Development Company Limited, said investors from South Africa, United Kingdom, Germany, Sweden and others have already keyed into the site and service scheme.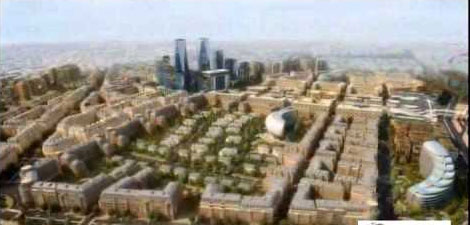 Besides, Chuks added that NFPDCL has partnered Dredging International to handle the dredging and hydraulic sand-filling of the expansive Festac Phase 2, pointing out that deals have been sealed with renowned foreign hospitals to be cited in the mega city to put a stop to Nigerians travelling abroad for medical issues.
Sewage treatment
Describing Festac Phase 2 as a well laid city where every aspect is functional and sustainable, the vice-chairman said there will be well laid drainage system, sewage treatment plant, 24 hours power supply, water supply, children's schools from nursery to secondary school and every aspect of life that makes a city functional.
Chuks who noted that the focus is to have a work class city, pointed out that "because of insecurity in Amuwo-Odofin LGA, security of the residential estate will be given priority. We have decided that everywhere in the city will be censored. There will be canals for moving goods and services, there will be 10-lane road from Murtala Muhammed International Airport into the city."
Explaining that the project will be redesigned to accommodate low income housing, Chuks said the aspect of roads in and out of the city will be financed by International Finance Corporation, IFC, adding that there are plans  to construct rail lines for railway to serve Festac.
He assured the investing public of good return on investment as the development would make the estate an investment haven, explaining that the estate would be second to none and for the discerning investor, FESTAC Phase 2 would be an unprecedented estate because of the planned facilities to be put in place. According to him, the serviced plots to be realised through the concession will be complemented with green areas, off street parking, power supply, petrol stations, shopping malls, hospitals, hospitality centres, well laid roads, water works, street lights, sewage disposal systems and all necessary support infrastructure.
The visual presentation of the project by its promoters to members of Perfection Real Estate Investors Cooperative showed details of every aspect of the mega project which includes already completed site investigation studies and preliminary works, the status of ongoing reclamation work.
Expressing the desire of the cooperative members to partner in the project, the president of Perfection Real Estate Investors Cooperative, Mr. Niyi Adeleye, who noted that the objective of his organisation was to make home ownership affordable to Nigerians through investment in real estate, said: "We are in Lekki, Ikorodu,and we are here to express our interest in Festac Phase 2 project."
He assured that his organisation is interested in the project and ready to partner the promoter of the project to deliver it. The consultant to the project, Mr. Innocent Meckson Okoro, founding partner, M.I. Okoro and Associates, a firm of estate surveyors and valuers, said the project is an opportunity for people to make money if they decide to invest in the project.
Okoro who said he bought where he lives in Lekki Phase 1 N1million then, but a plot of land in the place now goes for as much as N200 million, noted that there is no convenient time to invest. He therefore advised members of the public to take advantage of the opportunity to invest for future.
Okoro expressed optimism that the development of Festac Phase 2 will transform the entire axis into a modern city and yield great benefits both in the infrastructural and socio-economic development of Lagos.
In September 2014, the Federal Government approved the concession of the Phase 2 of the Festac scheme to NFPDCL under a 30-year build-operate-and-transfer, BOT, lease agreement. Based on this agreement, NFPDCL is undertaking land reclamation, sand-filling, infrastructural development, marketing and sale of the over 7,000 plots of land to be created from the reclaimed land. Also, from the project, the Federal Government is expected to earn N25.765 billion as premium and an additional N150 million ground rent annually for the 30 years of the concession.
Subscribe for latest Videos