By Ola Ajayi
Ibadan—LEADER  of Yoruba socio-cultural group, Afenifere, Chief Ayo Adebanjo, has said the national question on the unity of Nigeria should be addressed else peace will elude the country.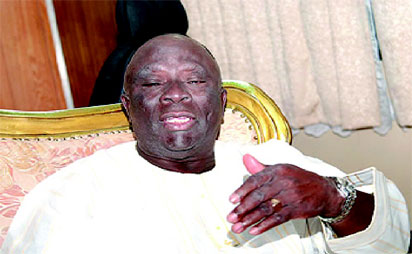 He said this at the fifth Chief Babatunde Oduyoye birthday lecture held at the Banquet Hall, Premier Hotel, Ibadan, yesterday.
According to him, "the basis of our problem will remain and until we settle the unity of this country, there will be no peace."
While speaking at the memorial lecture entitled: Imperatives of Nigeria's Survival and Development Programme of Agenda, Chief Adebanjo differed from the former Interim National Chairman of the All Progressives Congress, APC, Chief Bisi Akande on restructuring saying there is no way to federalise Nigeria without restructuring the system.
He told Chief Akande who had earlier said restructuring was the coinage of its proponents, distancing the ruling party from it and that both Chief Akande and the former governor of Lagos State, Asiwaju Bola Ahmed Tinubu became governors of Osun and Lagos states respectively through restructuring.
Adebanjo, who was the chairman at the event said: "Don't allow yourself to be confused. They are now mending their stand. Yes, we agreed on restructuring which is not a strange word. Forget restructuring, insist on federalism. You can't federalise the country now without restructuring the system. It's not a strange word because I heard Bisi Akande saying 'go and ask people who are calling for restructuring.
"They said they don't understand restructuring, I said if you don't understand restructuring, you understand the constitution Chief Obafemi Awolowo, Sarduna of Sokoto and Nnamdi Azikiwe agreed to; that is what we are asking for.
"Why do we say we want to go back to what your grandfathers agreed to and you say no. Is Muhammadu Buhari more northerner than the Sarduna? That is the problem. Please, let us explain this thing to our people. Nobody wants to separate the country. It is their propaganda to hit us, and we are going to stop it," he said.
In his own comments, former Vice Chairman, Senate Committee on National Planning, Economic Affairs and Poverty Alleviation, Senator Olufemi Lanlehin, also aligned with Chief Adebanjo on restructuring.