By Henry Umoru
ABUJA  – THE Senate has summoned acting Chairman of Economic and Financial Crimes Commission, EFCC, Mr Ibrahim Magu,  to appear before it tomorrow, to defend the role his commission played in getting seven bank accounts of former First Lady, Mrs. Patience Jonathan, frozen.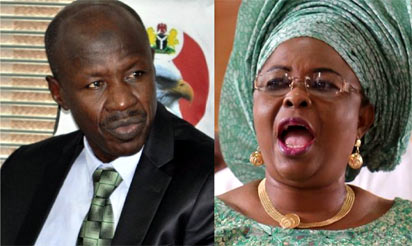 Also for alleged freezing of the accounts of Dame Jonathan, the Senate summoned the Managing Directors of some banks to appear before it.
They are to appear before the Senator Samuel Anyanwu (PDP, Imo East) committee, which will hear the petition by Mrs Jonathan.
In the petition brought to the Senate Committee on behalf of Mrs. Jonathan by Granville Abibo, SAN, the former First Lady complained that both the  EFCC and  National Drug Law Enforcement Agency, NDLEA, had, at different times "unleashed terror, dehumanizing, degrading and despicable treatment," on her and her relatives without justification.
According to the petition, the frozen accounts by the seven banks include those of companies, Pluto Property and Investment Company Limited, Seagate Property Development Investment Company and Transocean Property and Investment Limited.
The senators were also told that the account of her non-governmental organisation, The Women for Change Development Initiative,  Aruera Foundation as well as Finchley Top Homes Limited and the former First  lady's salary account were frozen.
The petition read: "The accounts of her siblings, Innocent Nyegerefaka, Mohammed Oba and Esther Oba had all been frozen by EFCC without a court order, all because they are blood relations of Dame Patience Jonathan."
In his remarks, Chairman of the Committee,  Anyanwu, who issued the summons, however, insisted that the Managing Directors must appear in person as the committee will not accept any representative.
Meanwhile, acting Chairman of, EFCC, Magu was  absent at yesterday's hearing.
In a letter to the committee, the EFCC explained that  Magu was out of the country, hence could not attend the meeting, adding that he will be returning today  and against this backdrop, the Committee then fixed tomorrow  for Magu's appearance.
In a related development, Patience Jonathan's counsel told the Senate Committee that they had resolved their differences with the NDLEA and hence will like to strike their name from the petition before the Senate.
But speaking before the committee, counsel to Patience Jonathan, Charles Ogboli, said that the former first lady's accounts and that of her relatives were frozen without any court order by the EFCC, adding that this culminated in the death of Mrs. Jonathan's brother, Lazarus Eware.