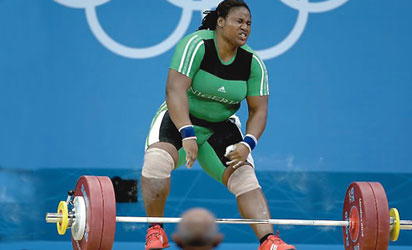 DOWN & OUT . . . Team Nigeria's female weightlifter hopeful, Maryam Usman disappointed as she flops during the women's +75-kg weightlifting .
One of the revelations of the recently concluded National Youth Games in Ilorin, is the emergence of Islamia Yusuf who will jet out to Uganda next week to represent Nigeria at the African Junior Weightlifting Championship holding this month.
Islamia, one of the representatives of the State of Osun at the 3rd edition of the annual youth games won three gold medals at the event where thirty three states participated.
Islamia, who has since been called to the National camp in Abuja is one of the few weightlifters selected to represent the country at the championship as she remains outstanding among her colleagues at the training.
Speaking on the development, State of Osun weightlifting coach  Adeyemi Rufus described the invitation and selection of Islamia Yusuf as a right decision by the Nigeria Weightlifting Federeration, saying she merited being chosen as a result of her performance in Ilorin which amazed all officials.
Coach Adeyemi promised that Islamia will not only go to Uganda to participate but will do the state of  Osun and Nigeria proud by winning medals.