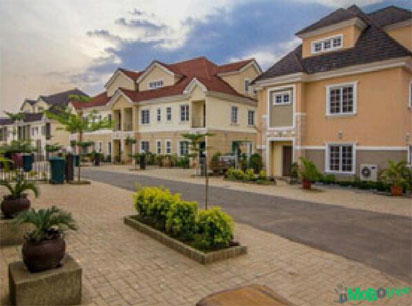 Residential Housing Estate
By Kingsley Adegboye
The Ogun State Property & Investment Corporation (OPIC), has signed a Memorandum of Understanding (MoU) with some Primary Mortgage Banks (PMBs) and the Nigeria Mortgage Refinance Company (NMRC), to build and deliver quality homes at affordable prices.
The tripartite agreement was signed in Abuja recently to seal the existing operational relationship among the parties in fulfilment of the common goal of offering quality housing under a mortgage system with no accessibility barriers to prospective home owners who crave for ease of purchasing houses.
The MoU, described by NMRC as a 'landmark' partnership agreement with OPIC and Imperial Homes, TrustBond and Homebase mortgage banks was in continuation of its mandate to stimulate housing delivery in the country.
According to the MoU, NMRC is expected to provide liquidity required for developing the primary and secondary mortgage markets through the raising of long- term funds from the capital markets for refinancing eligible mortgage loans of its member mortgage lending banks.
OPIC is confined to her business of developing, constructing and managing residential and industrial estates in any part of Nigeria for commercial purposes, while the participating mortgage banks are to provide mortgage loans to applicants who meet NMRC's strict underwriting standards for the purchase of the houses built by OPIC in line with strict provision empowering the three PMBs to 'administer  loan and mortgage facilities for persons or companies involved in any building construction project deemed viable and approved by the banks.
Authorities at the Refinance company stated that the new partnership with Ogun State had resonated the readiness and availability of effective demand for properties being developed by OPIC. This offered assurances that the refinancing funds invested can be quickly recovered and ploughed back into the construction of more houses.
It was also established that prior to the signing of this pact, OPIC had commenced construction, building and development of quality housing units at Orange Valley Estate, Abeokuta, MTR Gardens, Isheri, New Makun City, Sagamu and other locations in Ogun State, capable of being sold to interested subscribers with requisites to obtain mortgage loans from the PMBs for the purchase of the housing units.
The agreement also acknowledged OPIC's appointment of  the PMBs not only for provision of mortgage loans in compliance with the NMRC Uniform Underwriting Standards  to subscribers, but also for marketing,  securing  sale of housing units; and providing  financial advisory services on the projects as might be required from time to time.
Speaking at the signing of the MoU, Charles Inyangete, NMRC Managing Director/Chief Executive Officer, said he was delighted at the consolidation of the partnership because of the positive impact it will have on housing development in the area.
He added that the "partnership with OPIC in collaboration with Imperial Homes, Trust Bond and Homebase mortgage banks marks an important milestone in NMRC's effort to develop the mortgage market. It is our belief that the business financing model that we have developed will significantly strengthen OPIC's positioning as a potent catalyst for housing development in Ogun State."
The Managing Director, OPIC, Mr. Babajide Odusolu said: "The partnership holds great promise for the achievement of the corporation's plans to hit  the target of being the dominant provider of quality and affordable housing in Ogun State. This partnership gives a big boost to the plans of OPIC to build and offer quality houses under a mortgage system that is affordable and convenient for aspiring home owners to take.
"We commend NMRC for facilitating the consolidation of this partnership and the Imperial Homes, TrustBond and Homebase mortgage banks for their willingness to be our partners on this project.
"These institutions have come to terms with OPIC to make housing affordable through highly subsidized mortgages by the government, enabling the general populace to explore the single digit interest mortgage loans spread over a long period of time, in line with the OPIC/NMRC/Family Homes Funds (FHF) mortgage plans," Odusolu said.
He added that opportunities now abound for average income earners to own houses through a special mortgage scheme designed to fulfil a key cardinal objective of the present administration.
Also, the Director, Business Development, OPIC, Mr. Dehinde Boye, said Ogun State was found worthy, not only to partner with NMRC, but to model other upcoming states while exposing its citizenry to maximal benefits of NMRC's mission of providing housing of international standard for all.