By Abdulwahab Abdulah
Vice President, Professor Yemi Osinbajo, SAN, weekend, described the former late Attorney-General of the Federation, AGF and Minister of Justice, Dr. Olu Onagoruwa, SAN, as an icon who had made immense sacrifices for his country.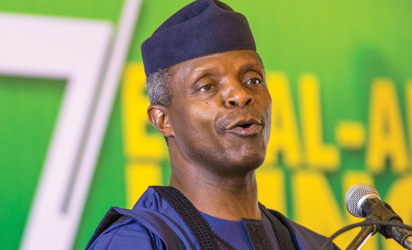 Osinbajo made the remark while the remains of the former AGF were being laid to rest in his country home at Odogbolu, Ogun State.
A statement signed by family media volunteer, Felix Oboagwina, stated that Osinbajo, who was one of the dignitaries that honoured the late senior advocate,  recalled the deceased's contributions to public discourse through Onagoruwa's days as Group Legal Adviser of Daily Times, and for his several contributions to constitution-making in Nigeria and beyond.
He prayed that God would make Onagoruwa's children "bigger and better" than their late father.
The Odogbolu branch of the Christ Apostolic Church, CAC, where Onagoruwa was ordained a Pastor, announced the founding of a N200 million secondary school in honour of the late senior advocate and his wife, the late Mrs. Lillian Titilayo Onagoruwa.
Onagoruwa who died last year July was buried on Friday, in the same grave as his late wife.
In his message sent through a representative, current Minister of Justice, Mr. Abubakar Malami, eulogised Onagoruwa, whom he said served the country with great sacrifice.
"He distinguished himself as an activist, foremost journalist and Attorney-General and Minister of Justice," Malami said.
Mr. Femi Falana (SAN), who had delivered a tribute at the wake on Thursday night, said Onagoruwa had stuck out his neck severally in the days of military rule to bail out himself and Chief Gani Fawehinmi.
According to him, although Onagoruwa and Fawehinmi would fall out over the former's acceptance to serve as Minister of Justice in the military regime of the Late General Sani Abacha, the duo remained loyal to each other.