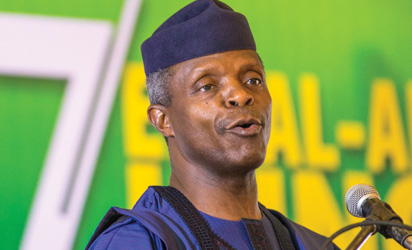 Osinbajo
By Sam Eyoboka
VICE President Yemi Osinbajo; Archbishop Emeritus, Anthony Cardinal Okogie; former Anambra State governor, Mr. Peter Obi; Delta and Lagos governors, Mr. Ifeanyi Okowa and Akinwunmi Ambode, yesterday, were unanimous in their believe that churches and other religious organisations have vital roles to play in the war against corruption.
Speaking at the 10th anniversary of Anthony Cardinal Okogie Foundation lecture at St Agnes Catholic Church, Maryland, Lagos, the guests and the current Catholic Archbishop, Most Rev. Alfred Adewale Martins, agreed that unless Nigerians unite now to kill corruption, the monster would soon kill Nigeria.
Vice President Osinbajo, who spoke through his Special Adviser on Anti-Corruption, Prof. Bolaji Owasanoye, said Nigeria had enough resources for the nation's needs but not enough for the greed of corrupt leaders, most of whom are often accommodated by the religious organisations without asking for the sources of their wealth.
Osinbajo outlined three cardinal ingredients that fuel corruption in the country, including: "the culture of silence, saying if we fail to speak out against corruption, we won't go anywhere; the culture of sycophancy or praise singing and the celebration of impunity" arguing that religious organisations are better placed to address such matters.
Earlier in his 40-minute guest lecture entitled: Creating a corruption-free society: The role of the Church, Mr. Peter Obi who argued that Nigeria, which started economic voyage with China, Malaysia, South Korea and some others is currently lagging behind, said corruption has crept into every facet of the nation's life, predicting that the nation cannot grow if we continue to tolerate corruption.
In his remarks, Cardinal Okogie said Nigerians cannot win the war against corruption except the every person sees corruption as a decimal not only in Nigeria but the whole world and that it does not even spare the schools, families and the Church, the judiciary nor politicians.
The Archbishop of Lagos, Most Rev. Adewale Martins also urged Nigerians to go beyond prayers in the fight against corruption, urging them to imbibe as well as practice values that witness to honesty and nobility.
Lagos State governor, Mr. Akinwunmi Ambode who was represented by Special Adviser on Primary Healthcare, Dr. Olufemi Onanuga hailed Cardinal Okogie who he said had demonstrated his commitment and unalloyed passion for the poor in the society, praying that God should continue to preserve him to fearlessly defend the cause of the down trodden.
His Delta State counterpart, Dr. Ifeanyi Okowa was represented by his Chief of Staff, Hon. Tam Brisbe was also of the view that unless the nation moves away from the current corrupt culture and develop other economic choices the future of Nigeria is blink.