By Nwafor Sunday
The former State Legal Adviser Peoples Democratic Party, PDP, Barrister Eugene Agbasionwe has faulted the political acephalous and non-stratified nature of Igbo, their beliefs and practices, noting that late Chukwuemeka Odumegwu Ojukwu and other Igbo politicians formed All Progressive Grand Alliance, APGA, for Ndigbo's identity.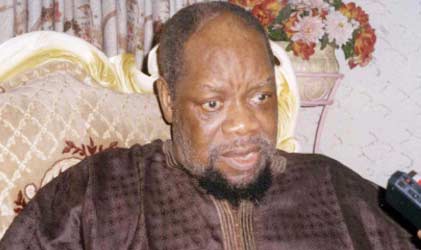 Eugene in a statement made public on Monday during his defection to APGA stated that CPC controls North, ACN dominates West whereas the polity left South East without an identifiable party.
He charged every Igbo to identify with APGA as it is the only Igbo political party Ndigbo should identify with.
In his words, "Without identifying with our own party we will not have the capacity to qualify for any political alignment or realignment that can produce Government at the centre," he said.
Speaking further, Eugene lauded Governor Willie Obiano for his aesthetic choices and good work in Anambra state and charged Anambrarians to support him coming Nov 18th governorship election.
Read his declarative statements bellow:
DECLARATION TO APGA
I, Barrister Eugene Agbasionwe legal practitioner, former State Legal Adviser PDP, former Local government Secretary Anambra East Local Government and former Deputy Chief Registrar Anambra State Judiciary is today declaring for the ALL PROGRESSIVE GRAND ALLIANCE (APGA).
In making this declaration today, I have studied the political terrain in Anambra State in particular and Nigeria in general and came to the conclusion that there is need for people like us to identify with our kith and kin.
The political polarity in Nigeria has made it difficult for an average Igbo man to aspire to an enviable political height. Evidence abounds of an incurable and lopsided political Engineering in Nigeria. This development has occasioned sectional and/or tribal politics in Nigeria.
The implication of this is that a section of the country dominates power in Nigeria so much that is only through political alignments and realignments that can produce Government at the centre. Without identifying with our own party we will not have the capacity to qualify for any political alignment or realignment.
In the North the CPC is in control while in the west the ACN dominates the polity leaving the South East without an identifiable party. The former Igbo Leader Chukwuemeka Odumegwu Ojukwu and other notable politicians in Igbo land brought to bear the APGA which to all intents and purposes was to be the political identity of Ndigbo.
But an Average Igbo man finds it difficult to work hard to sustain the only political identity of Igbo land. The Yorubas worked through ACN, the Hausa/Fulani worked through the CPC while the Igbos formed APGA.
Before now APGA enjoyed good rating in almost all the States of South East of Nigeria with very formidable concentration in Anambra, Abia, Imo, Delta, Rivers and even Bayelsa State. Rochas Okorocha's first tenure was won under APGA. Ikpeazu from Abia State also won under APGA but was removed through the court.
In Anambra State Chief Dr. Willie Mmaduaburochukwu Obiano elected under the platform of APGA has brought political dividends to every door step of all Anambrarians in Agriculture, rural infrastructure, roads and electricity.
Today, indigenes and visitors passing through the Awka express road expresses their delight over the profound beauty and elegance of the flyover bridges with street lights and daunted with several designs of beautification.
As a seasoned traveler and technocrat, Obiano has brought cities of New York USA closer to his people which previous administrations were unable to accomplish.
Obiano has given civil servants a good sense of belonging as he pays their salaries as well as the salaries of pensioners regularly. He has constantly mobilized the unemployed through his Youth Empowerment Programme.
All these qualities of the Amiable Governor has demonstrated resourcefulness and dependability thus projecting him as a man with large heart who even in the dwindling allocation has carried Ndi Anambra with him.
As a former PDP Chieftain, I promise to work assiduously with my numerous supporters now teamed with me to declare for APGA to ensure that the Governor is elected to the Government house to complete his work of good governance to the people of Anambra State.
I also use this forum to greet the member representing Anambra East in the House of Assembly Hon. Obinna Emeneka for all that he has done for the Local Government particularly the Nando Civic Centre which he has single handedly built.
Ndi Anambra let us support a winning team. APGA is a winning team. Let us shun the negative vicissitudes of political harlots in Anambra State who are joining one party or the other only to make money. This is our turn for Anambra North and as our turn we must protect APGA now our identity.
May God grant the people of Anambra State the wisdom to discern between the good and the bad. APGA is the good and we shall continue to work to nurture its growth.