By Chris Aligbe
Mr. President, you may not know personally this constituent of yours who has just passed away.   I do not expect you to know him because he was just one of the about 180 million Nigerians under your rule.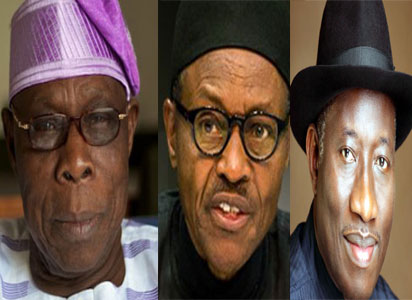 But he was one over whom you have demonstrated palpable compassion and unceasing lamentation.   He was one over whose health and financial plight you have taken affirmative actions on to the extent that if you could personally carry out your directives, you would.   But it is not your schedule to.   Yours is to direct and this you have done.   Thank you.
Mr. President, Capt Akintaju who just died on Tuesday, October 17th  was one of the first 11 Pilots who joined Nigeria Airways in the 60s.   Others include Captains Bob Hayes, Paul Tahal, Bara All-well Brown, Rufus Orimoloye, Sam Ohioma, Nnachi, Bunmi Oke, John Obianyor, Osakwe and Ebeigbe.   Of these "first 11", only the first three are alive and trudging on.
Mr. President, Citizen Akintaju was one of the over 5,909 pensioners of Nigeria Airways whose pension payment you have since approved and he was waiting and hoping to collect it while alive.   But Akintaju is not alone.
He has now joined, along with Engineer Amah and Capt. Asuquo, both of whom died two days before him, the ethereal band of over 782 Nigeria Airways pensioners who now dwell in the world beyond since our former President, Olusegun Obasanjo, in his fit of anger in reaction to the lie from the pit of hell, that his Vice, Atiku Abubakar, was planning to buy the National Carrier through IFC, liquidated the National Carrier.   The story of how all this happened and how OBJ liquidated Nigeria Airways and set up Virgin Nigeria, as co-investor with Richard Branson and UBA will be a diversion to the focus of this piece.
But suffice it to say that on liquidation, the value of the National Carrier's vast assets was four times more than its liabilities and was more than enough to pay the terminal benefits and pensions of the erstwhile workers.
But OBJ blatantly refused, arguing that the workers were corrupt.   All close to 7000 workers which included 4000 junior workers, amongst which were messengers, loaders, clerks, etc, were corrupt?   This was a mere subterfuge and a self-construct designed to cover up the self-directed and non-altruistic reasons of establishing Virgin Nigeria/Air Nigeria, both of which failed ignobly, leaving a fraudulent burden of N35billion for our country without any remorse.
Nigeria Airways vast choice properties in Nigeria and Overseas were sold at give-away prices to people, most of who paid with illicit funds.   The sales receipts are unaccounted for even up till today.
And so, from 2004 when the liquidation took effect to Obasanjo's exit in 2007, not a dime was paid to the Carrier's pensioners in Nigeria.     However, Nigeria Airways foreign staff in the US and Europe were paid their 23years benefits in accordance with their country and ILO laws.    All the Ministers of Aviation under Obasanjo from 2004 – Isa Yuguda, Borisade, Fani-Kayode understood his position and hence, did not do anything to push for a redress of this injustice, presidential heartlessness and inhumanity.
Thus began the disintegration of families as parents could no longer fend for their families, children dropped from schools and destitution set in.   Our very "Patriotic President" did not care.   Up till today, whenever he is confronted with his non-payment of Nigeria Airways staff pension, he is quick, like a cracked record, to play back his convoluted self-construct of "the staff were corrupt" and " I left 32 aircraft in 1979 and met only 3 in 1999" as his alibi. But this is not true. Yet, throughout his administration, he did not prosecute any of the "corrupt staff", let alone gain conviction.   He was the Complainant, the Judge and the Executioner, all in a show of benumbing arrogance of power and authority; a kind of Segun Adeniyi's "Tani Omumi".
This fate of the workers lingered on till the emergence of Late President Yar'dua of blessed memory.   The humane Yar'dua brought some succour to the pensioners whose number had depleted by about 75, when he approved payment of terminal benefits of 5 years pension as against 25years.   This brought great relief to the pensioners' families, particularly the children and the sick.   The Pensioners had hoped that President Yar'dua would finish what he had gratuitously started.   But this was not to be as the cold hand of death snuffed out this hope.
When Yar'dua died, Jonathan took over as President, completed Yar'dua's tenure and got elected for a 4-year term.   Since Jonathan was as Vice-President under Yar'dua and therefore privy to the Nigeria Airways pensioners' challenges, the pensioners were certain that he would do the needful.   But this was not to be.     To the staff, that government was not only inhumane but also inhuman in the face of their plight and agony.
In a typical insincere approach of a leadership that wants to avoid responsibility, Jonathan set up an inter-ministerial committee to deliberate on it.   The committee recommended 15years payment against 20/25years canvassed.
When the government kept foot-dragging, the pensioners went to court.   The government convinced them to withdraw the cases to make room for amicable settlement.   It became a matter for the Ministry of Justice which was more concerned with legalism than with the plight of pensioners.
What became clear was that at the Justice Ministry, with the approval of the Minister, Nigeria Airways pensioners' entitlements were at table to be eaten as in the worlds of Shakespeare Hamlet, "by convocation of politic (professional) worms".   Lawyers sought to reduce 10years payment to 7½years by cutting out 2½years to carve a chunk for their "services".   This was resisted and the Justice Ministry authorities stalled action.
While this went on, none of Jonathan's two Ministers of Aviation – Oduah and Chidoka, cared much and neither did the Finance Ministers – Okonjo-Iweala and Nenadi Usman.   And so, Jonathan's administration ended fruitlessly, albeit, devastatingly for Airways pensioners as death toll rose to about 550.
Mr. President, I have gone this length to enable you see the extent to which your compassion and personal commitment to address the injustice your predecessors meted out to Nigeria Airways pensioners has brought new life and hope to a hapless band.   No less in impact is also the vehemence and passion, with which the Minister of State for Aviation, Senator Hadi Sirika, has pushed this matter.   Thanks to you two.
Mr. President, permit me to observe that, in spite of all your efforts, the incubus has again appeared.   The cloud of insensitivity has once again enveloped those whose schedule it is to pay Nigeria Airways pensioners.   We have been told it is a matter between the Ministry of Finance and the PICA (Presidential Initiative on
Continuous Auditing).   True or false, we do not know, but what is going on is "what is in it for our services?"   While this is on, we now lose a pensioner a day on the average.   Last week, we lost seven pensioners and as I write, a host of us are now vegetative and bed-ridden with no funds to treat themselves, including the first and only female Electronics and Avionics Engineer.   Mr. President, we are not saying that people will not die but let them die decently and with a modicum of dignity.
For those who are sitting on and delaying our pension payment, I have story for you.   It is this:   Once upon a time, there was a Liquidator who got the contract to liquidate Nigeria Airways.   With the connivance of a Federal High Court Judge, he engaged the MOPOL and "Area Boys" to unleash terror on the then Staff of Nigeria Airways living in the airline's residential quarters in GRA, Ikeja.   He used bulldozers to pull down the houses, usually in the mornings when families were sleeping or just waking up.   His "area boys", usually numbering between 20 and 30, stole and threw out properties of families while MOPOL personnel watched on.
The helpless staff cursed and wailed to no avail. But just about three years, after this show of arrogance and inhuman terror, the violent hand of retributive justice bulldozed the Liquidator, as it were, through wheel chair confinement to the great beyond.   All the money he got could not save him.   Stranger than fiction you will say, but this is the account of an eye-witness who saw it all.
So if you are part of the delay, please watch it in your own interest because what goes round comes around.   The present situation where every Friday, pensioners of Nigeria Airways hold vigil and prayer session invoking God's wrath and "Holy Ghost Fire" on "you" will not augur well.   The curses, abuse and lamentations of the aged, widows, the sick, the orphan and the helpless are usually ominous.   They are potent and go far.
Mr. President, please accept my profound condolences for your constituent and one who may have voted you.   Oh! Citizen (Capt) Akintaju is dead.   Who is next?
Chris Aligbe
(Nigeria Airways Pensioner)
Aviation Consultant