We all know Rochas Okorocha.  I like him. He believes he is an orator. He believes he is on a political rescue mission. We know he is expansive, talks, and takes, on big things. We know he thinks Imo State is too small a stage for him.
We know he is burdened by a  perhaps  oversized ambition.  We know he has built  many roads  and structures. We know he pays more attention to quantity than quality. We know he likes  the limelight. We know how he milked the opportunity of a handshake with Obama. We know he is always busy, and  works a bit too hard.  We know he wants to play on the world stage. We know why he clings on to the title, 'Owelle.'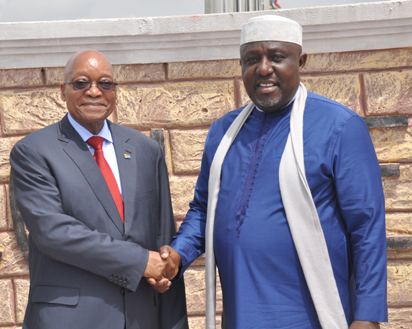 So why are we hysterical?
Why are we shocked that an exuberant  governor vested with prerogative powers, to honour and to pardon, has used those powers true to his  character? Let's  take a deep breath. Let's shed our garb of hypocrisy.  The recognition given to President Zuma may not be as offensive as it seems. In Igbo land we distribute titles and awards on 'cash and carry' basis. Churches hawk and sell knighthoods. Communities  sell birthrights. We sell  ourselves  to  the powerful; we sell to the rich.  We sell to those who have done some flimsy  philanthropy; we sell to  those from whom we expect donations.  We recognize moneyed dubious characters. We do not honour  good character.
So why are we miffed that President Zuma is now the  Ochiagha of Igbo land?
Zuma is a powerful man. He is the president of South Africa. South Africa is the most developed nation in Africa. He is the leader of the  legendary ANC. He is a factor in Southern African politics. Igbos need him.  Igbos are diaspora animals. Igbos need him more than a thousand other local  Ochiaghas. Igbos need him  because millions of Igbo youths  live and work in South and Southern Africa.
The local population  has manifested a sustained revulsion for the  rumbustious presence and activities of Nigerians in their territory. The burgeoning xenophobia against  Nigerians is statistically xenophobia against Igbos.  Igbos  must constitute 80% of the Nigerians  in that country. One Zuma statue, amongst many other  meaningless statues,  in Owerri cannot hurt the interests of Igbos in Africa. Zuma left happy. That matters. The xenophobic rabble in his country had accused Nigerians of usurping their livelihood. The Ochiagha could help to mollify them. We don't want them repatriated, just yet.
Yes, Zuma may be the face of corruption in Africa.  But he is that, only  because he is not a Nigerian.  The Nigerian criminal justice system was designed for the poor, and not the leaders. Our past and present leaders  can be fantastically corrupt , but will not face corruption trials like Zuma.  Zuma, measured by our standards, is squeaky clean!
Zuma is qualified. Haven't we agreed that even a suspected armed robber who hasn't been convicted  can hold high political office in Nigeria? Haven't former leaders whose loots have been repatriated retained their honour and our admiration?  Isn't Abacha still a national hero? Even when he can no longer help a fly?  If Zuma who hasn't been convicted of any crime is unqualified to be honoured,  which  Nigerian politician can ever be worthy of  a statue? Abacha has a stadium named after him. And a military barracks too. Babangida has monuments.
Obasanjo has highways named after him in many African countries.   Imagine a Governor Fayose  afflicted by the love for statues. He would plant a  president Jonathan in Ado Ekiti.  And  many of those whose mockeries of Okorocha have been  utterly excoriating  would  pump fists of triumph.  Would President Goodluck Jonathan, in spite of Dieziani and other revelations,  be  deemed unworthy of such an honour?  After all,he has not been charged. And has  not been convicted of any crime.  His wife cannot even be investigated. Her monies can only be seized from afar, timidly,  with a long legal spoon. Nigeria is not South Africa. Jonathan is  an African statesman man.
Nigerians mock President Zuma. Zuma  renovated his country home and improved its security infrastructure with state funds. Finicky  South Africans!  They were incensed. A court asked him to refund the misused funds. Zuma empowered a couple of his Indian friends. The Guptas came to South Africa 24 years ago, selling shoes from the boots of their cars. They are thought to have captured Zuma and captured the state. But Gupta isn't even worth a billion dollars yet. Yet South Africans threw a fit,  wanted Zuma impeached.
Powerful Lebanese  friends  of politicians here  have cornered whole cities in Nigeria.  Cronyism is cultural here though.  But Nigerians think Zuma is corrupt. Too corrupt to have a statue observing Owerri.  A Nigerian Zuma would have attended the Code of Conduct Tribunal , if he ever got charged, with an entourage of  state governors and his entire village. The senate would  shut down  in solidarity whenever he went to court.
If Zuma is unworthy, who amongst Nigerian politicians  would be worthy of a statue?
They say Zuma has many wives. They say he has many concubines. They say he slept with an HIV positive patient without condom.  They say he  reeks of ignorance and publicly defies science data. When did these become scandals in Nigerian politics?  Zuma may  not be a moral example in South Africa.  But Nigeria is not South Africa. Everywhere you look there is an Ochiagha. How many of them, elevated to  Zuma's  Olympian position, would have fewer concubines and fewer  sexual escapades?
I almost forgot.  Okorocha owes workers salaries. He owes retirees pensions. He likes playing to the gallery. Sometimes  he builds roads, forgets drainages,  and mounts pillars  for future  Christmas decorations. We are accustomed with haphazardness.  Governors sponsor pilgrimages while the people can't access primary health care.  I don't know how much Zuma's statue cost the state.  I don't know if it was funded by Rochas foundation. Transparency is something we would learn in the future.  However ,  this  Zuma gesture  can't be the reason Imo workers have not been paid.  But it's  not such a white elephant project.  It isn't like that 27 cake birthday project. It isn't that exhibitionistic. We  build tunnels where a roundabout would be more than adequate. And we worship them.
The Zuma statue, given whom we are, could be  a lofty idea. Igbos need all the Ochiaghas they can craft to check the virulent xenophobia in South Africa.