By Nwafor Sunday
The National Coordinator APGA Media Warriors Forum, Evang Chinedu Obigwe, has said that among all the governorship contenders in Anambra state, Governor Willie Obiano remained the best choice to be voted for, following his achievements, personality and sacrifice made for Ndi Anambra for the past three and half years.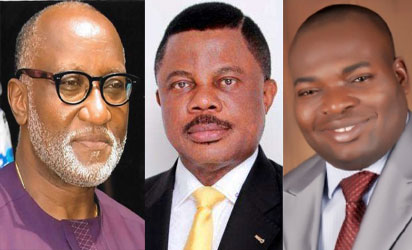 In a press release issued to newsmen on Sunday, Obigwe referred to APC governorship campaign flag off as a political macabre dance that will yield no tangible result, adding that the likes of Nwoye, Obaze and others have no political aplomb to get one single vote for themselves coming November 18th thus the reason they adopted 'Godfatherism and Federal Might which convincingly will fail them.
Giving reasons while he said that APC is going to lose out rightly in the forthcoming Anambra election, Obigwe said "the party is widely known as 'All Promises Cancelled party' which has nothing to offer except to impoverish the people as most of their governors have done to their various states."
Speaking further he said that Anambra people cannot be hoodwinked into voting for APC with Vice President Osibanjo's speech that the APC led Federal government will complete the 2nd Niger Bridge.
"We are tired of being deceived with the 2nd Niger Bridge, an abandoned project they should have done a long time ago. We are fed-up of their political ideologies and patterns, deception and failed promises", he said.
However, with a pin-point accuracy, he categorically said that Yahaya Bello, Rochas Okorocha and Malam Nasir El-Rufai, lacked the moral justification to tell Anambra people to vote for Tony Nwoye.
In his words, "Bello should bury his head in shame for owing Kogi Civil servants eleven months salary, thus the reason why 'Soje', a teaching officer in the State teaching service commission allegedly committed suicide because of his inability to meet up with his financial obligations. Bello should better pay his civil servants rather mobilizing Kogi youths to Anambra State with tax payer's money.
"Rochas Okorocha on the other hand failed imolites and the entire igbo race for honouring Jacob Zuma, President of South Africa with a chieftaincy title in imo State. He erected Zuma's image with over 520 million Naira Imolites tax, yet said he owe no one an apology for doing so whereas Igbo's are massacred in South Africa where his friend Zuma is the president.
"El-Rufai himself insulted igbo's with his widely reported comments as Chairman of APC restructuring committee. He said igbo's are unequal to Northerners and for that reason cannot be treated equally with Northerners in Nigeria. What a flimflam, gibberish from a flibbertigibbet", Obigwe said.
He said that the people of the State will not heed to El-Rufai political counsel since they are unequal to him and other Northerners.
In addition, he stated that APC in igbo land represents bad luck which if voted is tantamount to igbo's bringing bad luck upon themselves.
Obigwe finally said that Governor Obiano remained the best choice of the people of the State which not even the federal might can stop them from re electing him for a merited second term.
"Vote APGA, vote for Willie Obiano, vote for the future, vote wisely", he finally said.