By Nwabueze Okonkwo
ONITSHA – The Senior Special Assistant to overnor Willie Obiano on Political Matters, Hon. Arinzechukwu Awogu has appealed to Anambra electorate to vote for Obiano on November 18 because Obiano has earned our trust and confidence.
He stated that as an incumbent, the readily yardstick that comes to mind is performance level which is in itself relative in the sense that it presents different appeal to different people.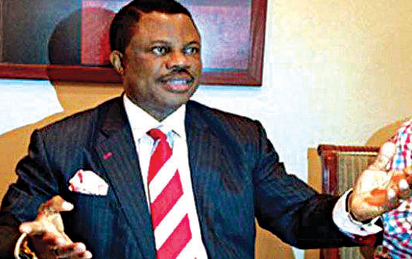 In a press statement issued to newsmen yesterday in Onitsha, Awogu stated that looking at Obiano's performance in retrospect especially when juxtaposed with the first four years of previous  administrations in the state, I found it reassuring to say that Obiano has performed exceptionally well in his three and a half years in office.
He contended that Obiano has equally fulfilled the primary responsibility of government which is the provision of security and seeing to the welfare of the people of Anambra state.
According to him, "Section 14 (2) (b) of the 1999 constitution (as amended) and as contained in Chapter 2, under fundamental objectives and directive principles of state policy says emphatically that: "The security and welfare of the people shall be the primary purpose of government".
"That basic aspect or requirement remained a puzzle in Anambra state but was solved by. He swept all forms of crime and criminality out of Anambra state and made the state conducive for businesses to thrive and for investors both indigenous and foreign to see Anambra as first choice destination in Nigeria which earned the governor accolades from event watchers and brought the state to the number one position in crime fighting".
"To crown it all, while the recession lasted, Anambra state never felt the bite of the economic meltdown simply because we have a governor that pays salaries promptly".
"Understandably, government (be it state or federal) is the highest employer of labour and when the worker gets his or her salary, he or she  heads to the market to buy needs and the prompt payment of salary by Obiano rubs off positively on the traders and down to the spectrum which was why the recession was not felt in the state".
"This healthy development was coupled with the injection of N40 million directly to each of the 181 communities in the state in the choose-your-project initiative, which allows some quantum of raw cash to circulate within the communities".
"Apart from payment of salaries, pensioners are also being paid and backlog of gratuities are being cleared by Obiano, some of which dates back to three previous administrations. These and many more are the reasons we can not at this point afford to joke with the re-election of Obiano".
" I know very well that Ndi-Anambra understand the need to guard the security and welfare we now enjoy in the state jealously and the only way to do that is by re-electing Obiano come November 18″.
"So it is not about me, Awogu, wishing that Obiano continues in office beyond 2018 but that of the desire of Ndi-Anambra who now sleep with their two eyes closed and who wouldn't want to go back to those days when they had to go to church to pass the night because it was certain that some folks would  way lay them in their homes at night".
"Our big men won't want to go back to the dark days when they had to give their daughters' hands in marriage in Abuja, Lagos and such other places because kidnappers were already awaiting their arrival. So, the people of Anambra state are mindful of how Egypt was and are not willing to go back to Egypt".