By Simon Ebegbulem
CELEBRATION for the 1st year anniversary of the Oba of Benin, Oba Ewuare 11 moved to the Samuel Ogbemudia Stadium Benin City weekend, where the Deputy Governor of the state, Comrade Philip Shaibu led the All Stars FC Benin in a novelty match against Austin Eguavoen captained Ex-players of Bendel Insurance FC of Benin City.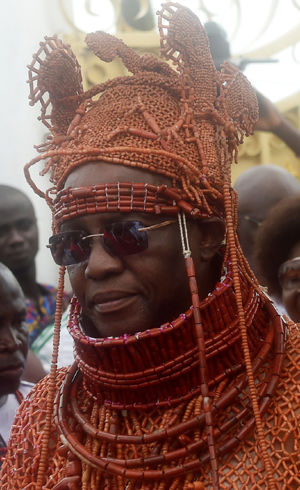 The revered monarch took the kick-off to the admiration of spectators at the Stadium,which also involved the Enigies (Dukes) who entertained the monarch for 20minutes.
Comrade Shaibu who scored the winning goal for his side via a penalty dedicated it to the monarch, saying that he was pleased to be involved in the celebration of the Oba, especially through football which he said was a unifying sport.
Presenting the giant trophy to Shaibu after the match, Oba Ewuare 11 described Shaibu as his son, wondering that "you are still physically fit despite the heavy stress of the office of deputy governor. I am particularly pleased that you made out time to play in this commemoration of my one year on the throne of my fore fathers.
"I want to thank the organizers of this football match and this has shown how sports unite all of us. And let me also say it that Edo state is one, whether you are Benin, Esan or Afemai we are all one and I want us to continue to live in peace as one big family. With what my chiefs have displayed on the field,  I can see that they are physically fit to carry out their customary duties in their various domain" he stated.