By Joseph Erunke
ABUJA-THE Inspector General of Police, Ibrahim Idris, has debunked claims in some quarters that some female police officers were in the custody of Boko Haram terrorists.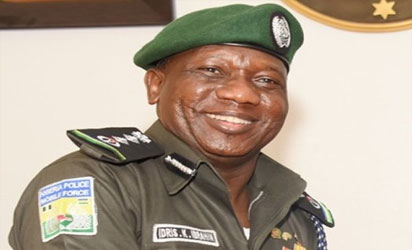 Although he admitted that some persons were abducted by the terrorists, the IGP said the police under his leadership was working assiduously with the military to rescue the hostages unhurt.
The police boss insisted that no police woman was abducted or in the custody of the terrorists and, therefore, asked people to dispel the claim.
Idris said some relatives of one deceased police personnel were abducted by the terrorists along Damboa Road when their convoy carrying a body home for burial was attacked.
Asked by Vanguard to disclose the number of police women in Boko Haram captivity and the rescue efforts he had initiated so far to get them out, Idris directed the Borno State Commissioner of Police, Mr Damian Chukwu, to respond to the question since the incident occurred in his command.
Responding, Damian said: "I have to correct an impression that they were police women. Actually, we had lost a police woman and when some of the relatives were carrying the corpse home for burial, some of them were abducted.
''We are making efforts with the military and I can assure you that definitely, they will be rescued."
Speaking on the issue after response of the Borno State commissioner of Police, IGP Idris said:"From what the CP said, it's not policemen or women that were abducted.
"Most of them were relatives of one of our officers we lost and who they were going for her burial.  All efforts have been made to see to their rescue. That, I'm aware of."