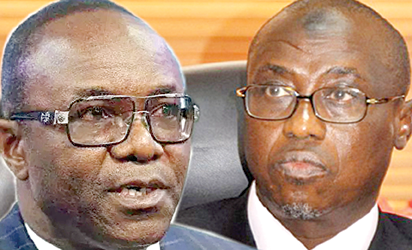 KACHIKWU and BARU
By Michael Eboh
Independent Petroleum Marketers Association of Nigeria, IPMAN, Friday, called on the Minister of Petroleum Resources, Mr. Ibe Kachikwu, to publicly apologise to Nigerians, over his various allegations against the Group Managing Director of the Nigerian National Petroleum Corporation, NNPC, Mr. Maikanti Baru.
IPMAN, in a statement by its National Secretary, Mr. Danladi Pasali, in Abuja, declared that Kachikwu's apologies was necessary in order to clear the minds of many uninformed and some mischievous elements who are still insisting on the wrong impression of massive corruption by the Baru-led administration of the NNPC, as alleged in his letter to President Muhammadu Buhari.
Pasali described as a welcome development, reports in the media that Kachikwu and Baru had both agreed that an autonomous NNPC and other regulators like the Department of Petroleum Resources, DPR, would enable the progress of the oil and gas industry.
He quoted Kachikwu as saying at the just concluded 2017 Nigerian Economic Summit that he is 'currently whittling down the powers of the minister's office in the on-going reforms of the industry so that these institutions could work and work well, the reality is that no one will work as a minister forever, you are going to hand over that portfolio'.
IPMAN, Pasali noted regarded this comment by the minister as very apt and is capable of bring confidence in the oil and gas sector.
He said, "No patriotic Nigerian or stakeholder in the oil and gas industry will not be happy with such statement, especially at this time when tension is brewing in the industry.
"Henceforth, IPMAN and other Nigerians are going to hold the minister by his words. We expects the minister to start by showing example to publicly apologies over his leaked letter which nearly bought down the integrity of the NNPC GMD, the administration of the President Muhammadu Buhari and the Nigerian petroleum industry.
Pasali argued that Kachikwu's statement that the 'autonomy of the oil and gas agencies was very key with less of political interface', was a great confession that his allegation of Baru's insubordination was wrong and unwarranted.
He said, "Our memories are still fresh of the massive corruption and mismanagement that nearly destroy the Nigerian Oil and Gas industry under the supervision of the former minister of Petroleum Resources, Mrs Diezani Alison – Madueke due to her enormous power.
"We therefore called on the minister and the GMD to shield their swords and work together for the benefits of the oil and gas industry."