Former Governor of Abia, Dr Orji Kalu, said that the leader of Independent People of Biafra, IPOB, Nnamdi Kanu, has fled to London.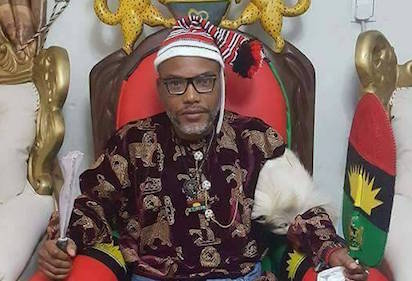 The government of the United Kingdom on Thursday had asked the Federal Government of Nigeria to state the whereabouts of British-Nigerian man and leader of IPOB, saying "We are seeking urgent clarification from the Nigerian authorities about the status and whereabouts of Mr. Kanu, a British-Nigerian man, who has been reported missing since September 14,".
But Kalu speaking in an interview with the Punch Newspapers said the IPOB leader Kanu went to Malaysia from where he travelled to the United Kingdom.
He said 'Kanu was not taken away by the military. Kanu went to Malaysia from where he travelled to the United Kingdom.
'Nnamdi Kanu is in London right now as we speak. He was not arrested by anybody. He left the country on his own.
'One of his relations has spoken to me and explained everything because I wanted to see him and talk to him wherever he was and see how I could meet some Federal Government officials on his issue.
'I also wanted to see ways of talking to the President about him, and find common ground but his family told me that he has left the country, unless they are lying to me.
'I believe, whether he had left the country or not, he is not with the military because I asked the Commander of the 14 Brigade, Brig.-Gen. A.K Ibrahim, who is a very fine and good soldier, well educated and dedicated, and he told me that they don't know his whereabouts and I am sure, the Department of State Services have the same information.
'I also visited the commissioner of police and he said he didn't know his whereabouts and that they are also looking for him.
On Kanu parents whereabouts
'I don't know. I visited them in December last year and I was not impressed with the discussion I had with the father and the mother because I expected them to have acted better. Since then, I have not visited them.
'I feel that they have not impressed me because they ignored my advice to them to talk to their son on the need to stay at home and avoid public outings. I said his people can continue to carry their flags around but that they should not disturb anybody again.
'They have a right to express themselves but that such rights should be within the limits of our constitution. They have the right to carry Biafran flags but they should do so within the limits of the constitution. Once your activities are within the limits of the law, you are in order.
'You cannot carry Biafra flags and be stopping vehicles and smashing their windscreens. You cannot carry Biafra (flags) and be raping young girls, you also cannot carry Biafra (flags) and be assembling young men every day. These are people who have no job and after doing that, they will go and engage in kidnapping or they will go and do armed robbery while some will go and do other things to make money.
'Hunger is a very terrible thing. The traders in the market have warned them to stop the nonsense they are doing. Why should you be extorting money from people in the name of Biafra agitation?
'They are extorting money from people in the market against their will. If the federal and state governments continue to watch and allow all these things to continue, there will be chaos in the state. If Kanu had not proved stubborn but listened to advice and kept to the rules of the court, we won't be where we are now'
His meeting with Nnamdi Kanu prison
'I spoke with Nnamdi Kanu in the prison and gave him quality advice. I counselled him to embrace peace and agree with whatever terms that will set him free.
I also warned him against allowing his boys to be displaying Biafra flags, coat of arms, organising parades, establishing secret security service, and mounting a guard of honour. I told him that by doing all these, his group had subdued the sovereignty of Nigeria and are therefore looking for trouble.
'No government on earth including the United States will allow any group to be championing the cause of dividing their country. I believe most sincerely that with the situation on ground today, majority of the Igbo do not agree on the issue of Biafra as a separate country.
'I have heard some elite, including professors who are saying that they want Biafra but they should know that there is no way such agitation can be achieved under the law. There is no section of the Nigerian constitution where you have restructuring. There is no section that spells out the process for dividing the country. All those things are alien to the constitution.
'If willingly, we want to talk about constitutional amendment, then people can bring up various issues. Today, the creation of Biafra Republic is not feasible. The (Indigenous People of Biafra) boys have the right to express themselves but they do not have any right to engage in destruction of property, raping women or setting up a Biafran intelligence service.
'No country will allow that to happen. I am an Igbo man before being a Nigerian and I have no regrets being an Igbo man. I have lived outside Igbo land so I understand Nigeria. I sincerely want to say and maintain what I have said earlier that Biafra as a country is not an issue now.
'The issue is for the Nigerian government to give us justice and fairness. When some Igbo people cry of marginalisation, I tell them that if they go to other parts of the country, the people there are also crying because the story is the same. There is a wall between the rich and the poor.
'We don't have any war of dialect or language. The rich people should start having a human face so that we can move the nation forward.
'I will not tell you a lie. Nnamdi Kanu did not agree with me at all on my views about his activities. I did most of the talking throughout the two hours and ten minutes that I stayed with him.
'I told him many stories about life especially some of the stories that the Ikemba Nnewi (Odimegwu Ojukwu) told me when he was alive and also explained lot of things to him based on my experience in life but didn't agree with me.
'I had to cut short my journey when I heard what was happening between his boys and the military. I returned to the country on September 14 and came straight to Abia State on the 15th to make sure that we talked to the IPOB boys so that they would stop what they were doing and allow peace to reign.'