Bestseller and former aide to Ex-President Goodluck Jonathan, Pastor Reno Omokri has alleged a poll he conducted showed Nigerians chose President Buhari as "the biggest problem of Nigeria."
According to Omokri, he had asked in the poll saying, "As 2019 approaches, what do you think is the greatest challenge facing Nigeria?"
He had given four options which are: Mass unemployment, Corruption, Terrorism and Buhari.
He said, however, Nigerians chose the category with Buhari "by a whopping 43%!"
Pastor Omokri also said that "We don't have a leader in PMB. We have a problem in him!"
Below is his tweet of the poll:
What do you say? Type your comments below.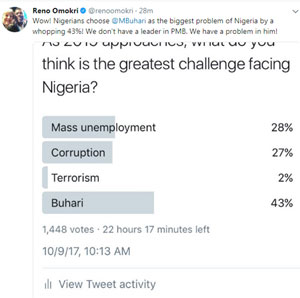 Wow! Nigerians choose @MBuhari as the biggest problem of Nigeria by a whopping 43%! We don't have a leader in PMB. We have a problem in him! pic.twitter.com/4RBhs66yoY

— Reno Omokri (@renoomokri) 9 October 2017
As 2019 approaches, what do you think is the greatest challenge facing Nigeria?

— Reno Omokri (@renoomokri) 9 October 2017