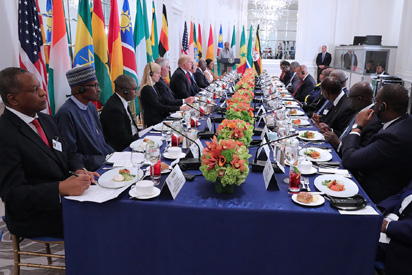 President Buhari attends Lunch in honor of select African Heads of State hosted by President of United States Donald Trump at the sidelines of 72nd Session of the United Nations General Assembly in New York on 20th Sept 2017
New York – Nigeria has launched a bid for re-election into the UN Human Rights Council (UNHRC) in Geneva for the 2018 to 2020 term at an election scheduled for Monday at the UN Headquarters, New York.
Amb. Audu Kadiri, Ambassador/Permanent Representative of Nigeria to the UN Office and Other International Organisations in Geneva, stated this in New York at a reception/party to launch Nigeria's re-election bid.
The News Agency of Nigeria (NAN) reports that UNHRC is a UN system inter-governmental body responsible for promoting and protecting human rights around the world.
If re-elected, Nigeria, currently serving out its 2015 to 2017 term, would be among the four countries representing West Africa and the 13 countries representing Africa in the 47-seat Council.
Kadiri said: "You are already aware that the Federal Government of Nigeria has presented its bid for re-election into the UN Human Rights Council for the 2018 to 2020 term".
Presenting Nigeria's manifesto to a group of envoys, Kadiri said "we solicit your firm support" adding, Nigeria's re-election bid for membership of UNHRC is informed by many considerations.
The Nigerian envoy said, "we are motivated by the conviction that in representing Africa while serving the global community in the Council, Nigeria would advance the work of the Council.
"The country will therefore retain the opportunity to continue to share best practices with other members of the Human Rights Council in the important task of the promotion of human rights and fundamental freedoms in Nigeria, Africa and the world".
He noted the increasingly turbulent and conflict-prone world, occasioning imminent and present dangers to upholding the dignity and safety of the human person as well as human rights and fundamental freedoms.
"These worrisome developments, notwithstanding, Nigeria remains undaunted in striving to make its contributions to the preservation of the ideals, aspirations and core principles upon which the Council was founded.
"Permit me to note that barely two weeks ago, we colourfully celebrated Nigeria's National Day, here in New York.
"It is important to observe in this regard that since it's attainment of independence in 1960, the promotion and protection of human rights have provided the fulcrum for Nigeria's foreign policy."
On the home front, Kadiri said Nigeria had put in place various institutions and policy measures to enhance the flowering and enjoyment of human rights and fundamental freedoms in the country, as provided for in its Constitution.
He pledged Nigeria's commitment to the international human rights agenda, noting that the country had illustriously served the global community on UNHRC for three terms – 2006-2009, 2009-2012 and currently, 2015-2017.
The Nigerian envoy said, "throughout these terms, Nigeria endeavoured to enhance the effectiveness and efficiency of the Council by approaching and dealing with human rights issues objectively.
He said it was worthy of recall also, Nigeria's fulfillment of its pledges and commitments upon admission to the Human Rights Council in 2006.
"Nigeria is on record to have issued a standing invitation to all, I repeat, all Special Procedures Mandate Holders to visit the country.
"We have therefore continued to subject our country to the scrutiny of these independent human rights experts and representatives of treaty bodies, many of whom have commended Nigeria's cooperation."
According to him, in doing so, Nigeria demonstrates its readiness to be held to a higher standard of human rights observation as a serving member of the Council.
"We do not take lightly, the fact that, as a member of this hallowed body, we are required to comply fully with our human rights and international humanitarian legal obligations.
"I wish to recall in this regard that only recently, the Nigerian Government set up a Judicial Commission to review compliance of the Nigerian Armed Forces with human rights obligations and rules of engagement.
"This is especially in local conflicts and the fight against terrorism in the country. The panel is also empowered to investigate alleged acts of violations of humanitarian and human rights laws.
"This action, along with the fact that Nigeria had established human rights desk in its Defence Headquarters, demonstrate the extent to which the country takes seriously, its international human rights obligations.
"We wonder how many countries have taken this path," the Nigeria's Permanent Representative," said.
Kadiri pledged that Nigeria would remain seized with other evolving human rights-related issues, including the impact of climate change, violent extremism and intolerance, global inequality, illicit financial flows, inclusive growth and sustainable development.
"We will continue to champion the cause of democracy in Africa and the cause of peoples of African descent. In light of the foregoing reasons, it is essential for Nigeria to retain its seat in the Human Rights Council.
"If re-elected, through your invaluable support, Nigeria intends to continue its positive contributions to making the Council more effective and efficient in delivering its mandate on the global human rights agenda.
"With a view to enabling the Human Rights Council to realise its core objectives in our increasingly polarised world, Nigeria has stood out as a voice for moderation.
"This voice has brought the much-needed balance and credibility to the work of the Human Rights Council. With your support on Monday, we intend to continue doing this and more," Kadiri said.(NAN)