By Our reporters
Former President Goodluck Jonathan, governors from across the country, Senate President Bukola Saraki and the Speaker of the House of Reps, Hon. Yakubu Dogara,  among others, preached unity and peaceful co-existence as Nigeria marks 57th independence anniversary today.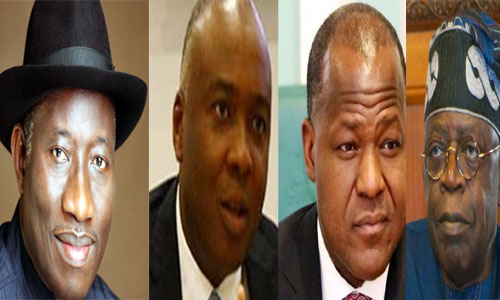 In separate statements, yesterday, they were optimistic that Nigeria will rise again.
Among those who greeted the country on the anniversary were Governors  Aminu Tambuwal (Sokoto State), Seriake Dickson (Bayelsa), Godwin Obaseki (Edo), Ifeanyi Okowa (Delta) and Samuel Ortom (Benue).
Jonathan called for oneness and accommodation
In a message released by his spokesman, Ikechukwu Eze, the ex-President stressed that the country would surmount its challenges and emerge stronger.
"As a nation we are moving on. On October 1, 2010, we celebrated our golden jubilee as an independent nation. Again, in January 2014, we celebrated our centenary. And, today, October 1, 2017, we are celebrating our 57th independence anniversary.
"It may seem as though we are passing through insurmountable challenges, but I am very intimately aware of the can-do Nigerian spirit which will help us surmount our present challenges.
"Let me also seize this opportunity to call for togetherness, oneness and accommodation for all. We must accept the fact that none of us is as great as all of us".
Tambuwal, in his message, urged Nigerians to rededicate themselves to making their nation one of the greatest on earth.
This he said can be achieved by making more investment in education and striving to secure a bright future for Nigerian children.
Let's renew hope in nation – Dickson
Dickson advised the people of Bayelsa State not to despair despite the challenges of the present time. He urged them to rekindle their hope in the greatness of the state and the country, for if Bayelsa is greater, Nigeria will be great again!
In a statement by his Chief Press Secretary, Francis Ottah Agbo, the governor paid glowing tributes to the founding fathers of Bayelsa.
We must embrace unity —Obaseki
Obaseki asked Nigerians to use the occasion of the celebration to embrace unity and peaceful co-existence.
The Edo governor said the joy of being independent people could not be qualified as it was capable of bringing limitless freedom and a high sense of self-worth.
He pleaded with Nigerians to remain broad-minded, accommodating and living with one another peacefully, irrespective of our diversity.
Shun violence, Okowa tells Nigerians
Okowa and Speaker of Delta State House of Assembly, Chief Sheriff Oborevwori, admonished Nigerians to shun violence and all acts capable of threatening the corporate existence of the country.
The duo felicitated with Nigerians, saying the unity of the country is sacrosanct.
The Delta governor, in a statement by his Chief Press Secretary, Mr Charles Aniagwu, asked Nigerians to be proud of their country and desist from acts that are inimical to the continued corporate existence of Nigeria.
Ortom calls for unity
Ortom reiterated the commitment of the government and people of Benue to the unity of Nigeria, expressing optimism that the country would attain greater heights under the present administration.
The governor, in a message by his Chief Press Secretary, Terver Akase, noted that "the challenges facing the country are surmountable if Nigerians join hands with government and avoid actions and speeches that fan embers of hatred and disintegration."
Work for peace, stability —Saraki
Saraki called for peaceful co-existence among Nigerians, just as he congratulated the country for sustaining her status as a united and progressive country.
In statement by his Special Adviser on Media and Publicity, Yusuph Olaniyonu, the Senate President urged Nigerians, irrespective of creed and tribe, to continue to work for the peace, unity and stability of the country.
He called on political, traditional, religious and business leaders to close ranks in order to initiate and implement ideas and strategies that would further develop the country and increase the standard of living of the citizenry, saying the task for a greater Nigeria is a collective responsibility of every citizen, just as he enjoined every citizen to believe in the project Nigeria and pray for peace and progress of the country.
Deputy Senate President, Senator Ike Ekweremadu, in his own message, emplored Nigerians to be patient and optimistic, as the country would surely overcome her challenges.
Ekweremadu said: "I am an optimist. As a matter of principle, I prefer to see the positive sides of life without also overlooking the problems also. At 57, we have no doubt had our challenges as a nation. But we have also made progress. We survived a civil war to remain one country.
True independence comes when we shun sectional interests
—Dogara
Dogara  said that unless Nigerians shunned sectional sentiments and promoted national interest, the country would not achieve true independence.
In a statement by his Special Adviser on Media and Public Affairs, Turaki Hassan, the Speaker noted that Nigeria would only attain greatness in an atmosphere of peace, unity and stability.
We need renaissance spirit – David Mark
A former Senate President, Senator David Mark    called for a renaissance spirit among Nigerians as a panacea to the current socio-economic and political    challenges, just as he acknowledged that Nigerians are passing through difficult times.
In a message signed by his Media Assistant, Paul Mumeh, Mark, who enjoined Nigerians to shun mundane issues    such as ethnicity or religious differences that tend to create disharmony, said,"We can surmount our challenges if we    collaborate and confront them in a    more determined, focused and    honest manner".
Deputy Senate Chief Whip, Senator Francis Alimikhena, APC, Edo North, called on Nigerians to reduce the tension in the country and what he described as endless bickering among stakeholders in the partisan political circle.
In his message, Alimikhena, who called for good relationship among the three tiers of government, however, lamented the cases of insecurity that was creating apprehension among local and foreign investors.
Chief Emeka Anyaoku, a former Secretary General of the Commonwealth, said Nigerians should  celebrate 57 years of existence as a sovereign country but a must resolve to deal effectively with the challenges, some of which are existential, facing the country". Anyaoku said in his statement: "The undeniable reality of the current state of affairs in Nigeria is that the country since the civil war has never been as divided as it is now in the face of armed insurgency in the North East, a threat of secession by some elements   in the South East, rampaging Fulani herdsmen wreaking havoc in parts of the country, militancy in the Niger Delta, an economy just recovering from recession and incalculable damage being done to the country's development by massive corruption.
To effectively tackle these challenges and put our diverse country on the road to political stability and its deserved development, we must move from our present nominal to a   true federalism, in other words, we must restructure the country's present governance architecture.
The Special Adviser to the President on Niger Delta and Coordinator of the Presidential Amnesty Programme, Brigadier General Paul Boroh (ret.), in his statement, noted that there were still  a lot of challenges confronting the world and Nigeria "but I have no doubt that we shall overcome them adequately".
Boroh went on: "What is desired is for us to emphasize on dialogue rather than hold monologues across the country. Conflicts are bound to occur sometimes as a result of misinformation or lack of communication. Whatever the cause(s) the most important thing is that we should adopt the non-violent approach to conflict management including    mediation, reconciliation, arbitration and general alternative dispute resolution mechanism.
"There is strength in unity and as a united people, we can overcome our challenges, lead our country on the path of development and fulfill our mission to lead our area of influence, Africa aright.
Let's remain united —Senator Tinubu
Senator Oluremi Tinubu asked Nigerians to continue on the path of unity and eschew all tendencies to break up the country, saying the country has set its hands on the plough and cannot give up now. In her statement, the senator  representing Lagos Central said in spite of the conflicts and rifts including a 30-month civil war that have plagued Nigeria, the country elected to remain as one.
"We must continue on the path of oneness, putting national interests above ethnicity and self. We have set our hands on the plough; we cannot at this moment, give up. Thus, we must shun all attempts to cause disunity amongst us," she said.
"Never again should we as a nation go through conflict like we did with the civil war. For us, the odds are too huge".
The spirit of oneness we need for greater Nigeria —Ashafa
Senator Gbenga Ashafa, representing Lagos – East, called on Nigerians to imbibe the spirit of oneness."We are not only coming out of the recession, we are coming out of it with a diversified economy, a more entrepreneurial population, lesser dependence on crude oil, a more informed people, a more solid foundation for our economy and the institutions of state", he said in his message.
Nigeria making gradual process
– Peterside
The Director-General, Nigerian Maritime Administration and Safety Agency (NIMASA), Dr Dakuku Peterside, in his message, said that despite going through difficult times since independence, Nigeria has remained one and is beginning to make steady progress under President Muhammadu Buhari administration.
Peterside said, "I praise the resilience and patience of Nigerians who has endured the difficult times before giving their mandate to President Buhari and the All Progressives Congress (APC) to rescue the nation from her drift and provide credible leadership".
Glo congratulates
Globacom congratulated the Federal Government and people for sustaining the  country's journey to  nationhood in spite of different challenges.
The telecom giant, in a statement, applauded Nigerians for their perseverance, resilience and patriotism which have kept the country together amidst difficulties."Although we have had recurring challenges as a nation, they should not be allowed to overshadow the achievements we have recorded in the last 57 years of nationhood. The present problems should strengthen our resolve to march on until we get to our desired destination.