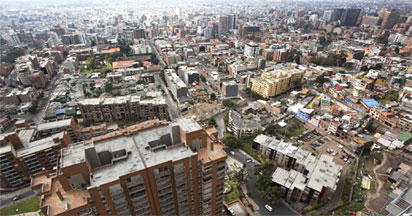 Densely populated city
By Kingsley Adegboye with Agency report
THE United Nations Deputy Secretary-General, Amina Mohammed, has said that UN-Habitat is failing to deliver sufficiently in cities, and its work in urban areas must be re-invigorated, as the General Assembly recently held a high-level meeting on a new UN approach to the rapidly urbanizing world.
Ms. Amina Mohammed said in her opening remarks at the two-day event, "Today, we acknowledge that the UN is not delivering sufficiently in cities. And, through our common effort, we will rectify this.
Proud history of urban work
The proud history of urban work at the UN must be harnessed at this vital time, and the UN must be seen again as the lead convener and catalyser for partners, funders, private sector and civil society organisations to scale up their work in urban areas."
The meeting discussed how the New Urban Agenda has been implemented since its adoption in October 2016 at the UN Conference on Housing and Sustainable Urban Development, known as Habitat III, while examining the recommendations put forth by an independent panel reviewing the effectiveness of UN-Habitat.
It also addressed the measures contained in the Report of the Secretary- General's Independent Panel to assess, enhance effectiveness of UN-Habitat after adoption of New Urban Agenda, which was published at the beginning of August 2017.
"It is clear that it is in cities where the battle for sustainability will be won or lost," she noted. The outcome of the meeting is expected to serve as an input to the General Assembly's main body dealing with economic and financial issues (Second Committee), which will consider action to be taken in the light of these recommendations during its forthcoming substantive session this fall.
Ms Mohammed noted that by 2050, 70 per cent of the world's population could be living in urban areas, pointing out that while cities are hubs of promise, jobs, technology and economic development, they are also the epicentre of greenhouse gas emissions and many of the challenges of sustainability.
In his remarks, General Assembly President, Peter Thomson, stressed the importance of capitalizing on the enormous social and economic opportunities provided by mass urbanisation to lift people out of poverty, drive inclusive economic growth, promote equality, strengthen community resilience, and of course, effectively combat climate change.
He said,"To do so, we have to increase global awareness of the 2030 Agenda for Sustainable Development and the New Urban Agenda, particularly among policymakers and the global public.
"Secondly, strategic partnerships have to be strengthened between governments at all levels, community leaders, civil society, and the business community, to foster coherent approaches to urban development. Then there is the task of harnessing the exponential potential of science, technology and innovation to drive smart new approaches towards sustainable urbanisation and achieving the Sustainable Development Goals (SDGs).
"And finally, the UN system must be able to effectively serve member-states in achieving these universal agendas, with UN-Habitat strongly positioned to support implementation of the New Urban Agenda."
Joan Clos, Executive Director of UN-Habitat, also addressed the meeting. In the Panel's assessment, the first priority is to save, stabilise and then rapidly strengthen UN-Habitat to equip it for a renewed role based on the 2030 Agenda, adopted in 2015, as well as the New Urban Agenda.
The panel recommends, among others, that 'UN Urban' be established as a coordinating mechanism similar to UN-Water or UN-Energy, as part of system-wide UN reform, with a small secretariat based in the Department of Economic and Social Affairs (DESA) in New York.