The Nigerian Labour Congress, NLC, National President, Ayuba Wabba, on Wednesday, urged workers not to lose hope on the actualisation of the proposed N56, 000 new minimum wage by NLC.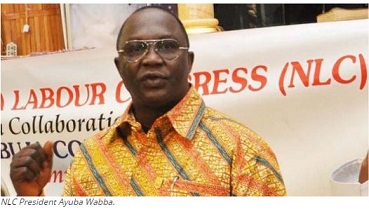 Wabba made the call at the National Delegates' Conference (NDC) of Amalgamated Union of Public Corporations, Civil Service Technical and Recreational Services Employees (AUPCTRE) in Ibadan.
He said NLC would not rest on its oars until the current minimum wage of N18,000 was reviewed upward and workers' welfare ascertained.
He added that "I assure you that this struggle will take us to the promise land; be determined for a people determined can't be defeated.
"Never let your interest be underlined but let's be strong and maintain one voice; we must forge ahead and make progress because a worker deserves his wages.
"We will maintain our voice of no salary, no work."
The Head of Service of the Federation, Mrs. Winifred Oyo-Ita, stressed the need for harmonious industrial environment for workers.
Represented by the Director, Office of the Head of Civil Service, Mr. Abdulkarim Haruna, Oyo-Ita said good industrial relation was vital to the success of government or economy since the execution of its policies largely depended on the workforce.
She said her office was committed to restoring the integrity and dignity of the service that had been eroded over the years.
Earlier, the National President of AUPCTRE, Solomon Adelegan, said Nigerians and the union sought to end industrial backwardness, collapse of health and infrastructure decay.
He added that the masses also sought an end to over-dependence on foreign products, gross exploitation of labour and neo liberal-economic policies.
Adelegan stressed the need for government to resuscitate the defunct marketing boards in the country to regulate prices of produce.
He urged Federal Government to restore the payment of gratuity to pensioners in the public sector in recognition of services rendered.
He added that "we want to call on Federal Government to adequately fund tertiary education and restructure school curriculum at all levels to make Nigerian graduates self-employed and contribute to the country's development.
"Government and other agencies in the fight against corruption have not done enough to curtail the menace as most high profile cases are either poorly prosecuted or compromised entirely.
"We call on government to strengthen security agencies, be more proactive in the fight against crimes, the national, state assemblies should put in place enabling laws that will curtail herdsmen, kidnappers activities," he said.
The AUPCTRE Charmian in Oyo State, Eniola Kolawole, said NDC was the supreme authority and highest decision making organ of the union held every four years.
He said the conference usually afforded the union the opportunity to evaluate past activities
and elect new officers to pilot the activities of the union for another four years.
"This conference should see beyond elections, all issues affecting the welfare of our members and discuss extensively with a view to finding lasting solutions to them," he said.