By Davies Iheamnachor
RUMUOKWURUSI— FOUR communities in Rivers State have rang alarm bells over grabbers that have swooped on their communities, allegedly killing villagers and raping women. The communities include Rumuokwurusi and Atali in Obio/Akpor Local Government Area; Ikwere-Ngwo in Etche Local Government Area; Umusele in Iguruta, Ikwerre Local Government Area.
The affected communities, on the platform of Coalition of Communities Against, Rape Murder and Land-Grabbing, last week, staged a protest against  the conduct of the land-grabbers, who according to them, were threatening the peace, security and farming activities in their areas. They have already sent an SOS to Governor Nyesom Wike and the Inspector General of Police, Ibrahim Idris to rescue them from purported land grabbers, who they claim, were using  security agents to dispossess them of their inheritance.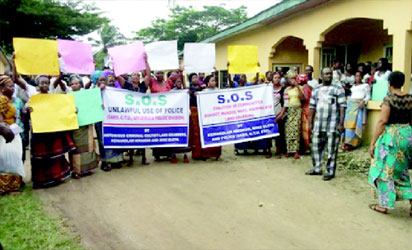 The communities called for prompt intervention of the authorities to avert  a breakdown in law and order.
Monarch speaks
His Royal Highness, Eze Stanford Achor, Eze Wokorobe III, Rumuokerebe community in Rumuokwurusi, explained that some individuals, who do not own landed property in the area were laying claims of ownership to land.
The traditional ruler said: "SARS men have taken over the place supporting them to take our land. They are killing people there. They will kill people and  the police will not arrest them. The police have given the men power to subdue the real owners of the land. We are not happy about the development."
Speaking during a peaceful demonstration, Chief Harrison Nwebilor, a leader in Omusele family in Omuenyi, Iguruta, stated that the land grabbers have destroyed their crops and economic trees and sold off the portions of land.
Nwebilor said: "Our land has been taken over by people who claim to be land grabbers. They brought caterpillars and bulldozed into our land destroy  all  our  economic crops, cassava, cucumber, corn, etc.
Community leader alleges rape: Another community leader, Chief Mrs. Gloria Wali, noted that the women were being raped and threatened by the cult boys and security agents sponsored by the land grabbers when they go to farms. Wali also expressed concern that the development has slowed down farming activities in the areas, adding that land grabbing is the major challenge facing agricultural activities in the area.
One of the persons named by villagers denied the allegation of land-grabbing, saying that the land in question belonged to his community and he had no land issue with anybody.
Police story: Reacting, the Public Relations Officer of the Rivers State Police Command, Mr. Nnamdi Omoni, said the Police cannot be involved in land-grabbing and would not aid people to acquire landed property. He advised them to channel their complaints to the Police Command for proper investigation.