Minister of Health, Prof. Isaac Adewole, says new partnerships can help in providing viable solutions to the challenges in the nation's health care delivery system.
Adewole said this at the inauguration of Pharmaceutical Society of Nigeria (PSN) Foundation on Wednesday in Abuja aimed at providing humanitarian assistance to pharmacists and other Nigerians in need of succour.
He emphasised that the nation's health sector requires new partnerships to be able to reduce maternal deaths to the barest minimum, describing the foundation as one of such partnerships.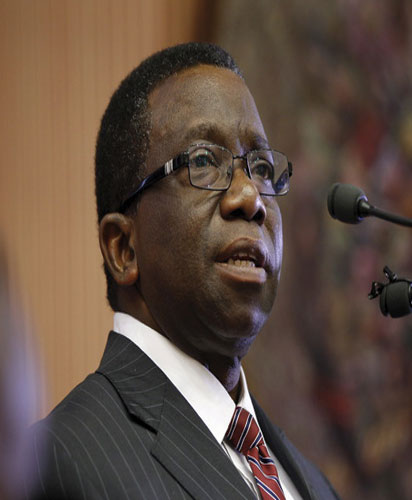 The minister, who bemoaned the disease burden in the country, noted that no remarkable change has been made in the last five years.
Adewole identified maternal and infant mortality, low uptake of contraceptive, Tuberculosis diagnosis, immunisation as some of the challenges in the health sector.
He explained that without collaboration with non-governmental organisation (NGOs) among other stakeholders, no government can solely address all existing disease burden.
"One of the purposes of setting up this foundation that strike me most is to support and collaborate with other organisations in the field of human health development.
"Nothing has dramatically changed in the past five years but to provide the needed change and create changes we need new partnership, we need to do things differently and diverse ways which is one of the surest ways.
"To drastically reduce maternal mortality in Nigeria we need new partnership, we must do things differently.
"To really increase our ability to diagnose TB where we can really diagnose one in every six cases we need partnership, to increase contraceptive uptake we need partnership.
"We need partnership to prevent our young ones from dying," the minister said.
Adewole, who described the PSN Foundation as first of its kind, commended its president, Mr Ahmed Yakasai, for the laudable initiative.
While describing the pharmacists as representing first contact in health system, the minister pointed out that touching lives was like building a legacy.
Adewole pledged the full support of the ministry and the Federal Government to the foundation to enable it to thrive, survive and make impact on the citizenry.
"Setting up a foundation by professional bodies is truly alien to our culture and this is first of its kind; what they have done has changed the narrative.
"I believe the foundation will work closely with us and I am using this platform to collaborate with you and I will do everything possible for this foundation to  thrive, survive and really create ripples across the landscape.
Earlier, Yakasai said he was inspired to set up the foundation by the contributions of similar bodies including Indian Pharmaceutical Society, the Nigerian Association of Pharmacists and Pharmaceutical Scientists in America (NAPPSA) and International Pharmaceutical Federation (FIP) to humanity.
Yakasai explained that the foundation would cater for the welfare of the nation's pharmacists and other Nigerians, promote research and development in the use of herbs.
According to him, it will also provide scholarships to deserving pharmacists and their children and promote national development.
He explained that the foundation's impact to the public will be extended through public health campaigns, emergency response, and fight against fake and sub-standard drugs among others.
"Our intention is to serve the vulnerable ones within the society to have succour and optimum health.
"The foundation is aimed at serving the Nigerian pharmaceutical community and provides humanitarian assistance to the general public.
"We believe that the quality of lives of people primarily depend their health and well-being.
"Pharmacists who are vital members of healthcare team play a vital role in ensuring a better quality of life for our people through public health, charitable support among others," Yakasai said.
NAN