Mr Ibrahim Magu, Gov. Okezie Ikpeazu of Abia and Mayor Bill de Blasio of New York, among others, joined the revelers at the Independence Day Parade in New York on Saturday.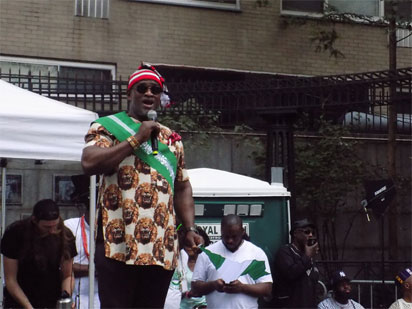 Newsmen report that Magu joined the Parade, which began at Second Avenue on E. 54th Street and ended at E. 44th Street at Nigeria House.
He later joined other dignitaries at the Independence Day Festival at Dag Hammarskjold Plaza near the United Nations Headquarters, in the afternoon, after the Parade.
Known as the largest celebration of Nigerians outside the homeland, the annual Nigerian Independence Day Parade, in its 26th year, celebrated the very best of Nigeria's food, music and people.
The Mayor, in a signed proclamation presented at the Festival by Deputy Mayor Richard Buery, praised the contributions of Nigerians to the development and diversity of the city.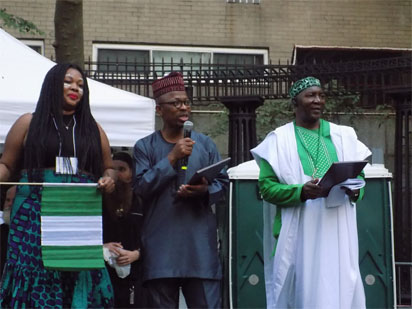 "New York would not be the diverse and dynamic city it is today without the influence of Nigerian immigrants.
"Our large and thriving population of Nigerian Americans has strengthened every facet of the five boroughs, with many serving as leaders in the fields of business, academia, medicine, government, technology, the arts, and more.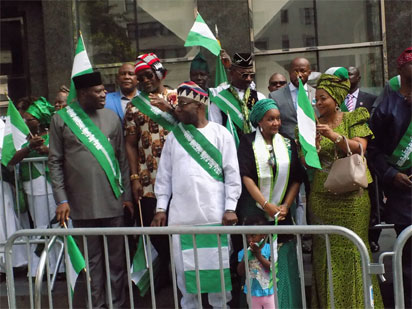 "As New Yorkers of Nigerian descent celebrate 57 years of Nigeria's independence, I am pleased to recognise the indelible impact this vital community has made on our great city, and the many ways it continues to shape and fortify our future."  
Revelers at the Nigerian Independence Day Parade in New York
According to him, the lively procession is a terrific way to showcase for all New Yorkers, the rich heritage and spirit of fellowship that defines Nigerian Americans.
"As Nigerian New Yorkers unite and celebrate, I commend the Organisation for the Advancement of Nigerians for its efforts to organise this terrific event, defend the rights and interests of Nigerian Americans, and enhance the cultural vitality of our global city."
Ikpeazu, represented by his Deputy, Ude Chukwu, commended Nigerians in the U.S. for being united in spite of their differences.
He lauded them for projecting the image of Nigeria positively to the whole world, saying the homeland is proud of the contributions of Nigerians in the U.S.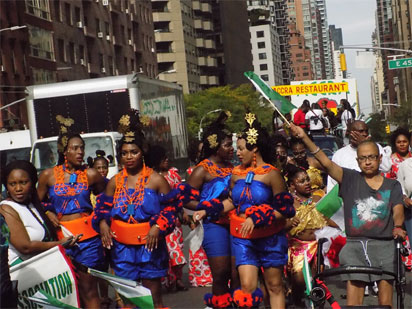 The Deputy Mayor of Newark, New Jersey, Mr Ugo Nwaokoro, praised Nigerians for standing united in spite of the obvious challenges in the homeland.
"There are many problems back at home but we must all come together to build the Nigeria of our dream," Nwaokoro said.