Mrs. Mfon Ekong Usoro is a maritime lawyer with rich national and international experience. She was at a time the director general of the Nigerian Maritime Administration and Safety Authority, NIMASA; chairman of the Nigerian Bar Association Section on Business Law (NBA-SBL) and secretary general of the Port State Control Memorandum for West and Central African Region of the World Trade Organisation, WTO. In this interview, she speaks on the maritime wealth of the country, the challenges of globalization and sundry issues.
By Onozure Dania
THE Mfon Usoro Lawyers Tennis Championship which you sponsor has been on for some years now. What is your appraisal of the championship?
The quality of the tournament continues to improve each year. Our strategic partnership with Nigerian Table Tennis Association is probably one of the best decisions we made. The officials have contributed tremendously in uplifting the standard of play. I have to say that the young ones who do the leg work have performed exceptionally well in their commitment to Lawyers Table Tennis Open.
Do you think the championship has achieved the desired objectives?
We have observed with pleasure the increasing popularity of the Championship among Nigerian lawyers. It appears that we have achieved the objectives  but as you know, one constantly must raise the bar and set new goals. So, I need to have more female lawyers participate in the tournament. It is really satisfying to watch lawyers truly relax, in a non-contentious, non-competitive atmosphere where no one is marketing or trying to impress clients. The young and old lawyers generally have a good laugh. Some older lawyers who used to play table tennis seize the opportunity to showcase their skills or lack of it  and have fun doing so. The free medical screening at the last AGC demonstrated the negative effect of this high-octane profession on our colleagues.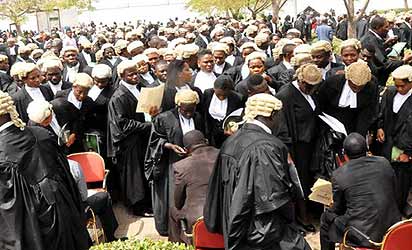 What is the next stage for the championship?
The last practice session was last week. I understand, more lawyers from outside Lagos will participate in this year's championship. I am very delighted at that because so far, I think it is only Ibadan Bar that has seriously participated in the championship. We aim to attract lawyers from every part of Nigeria and more female lawyers in future.
As a member of the Federal Government committee on national fleet, how is the committee doing, what options are you looking at to avoid a repeat of what happened to our former national fleet?
The  Minister of Transportation, Mr. Rotimi  Amaechi, is very committed to the implementation of the provisions of specific sections of NIMASA  Act aimed at the growth of Nigerian tonnage and effective participation of Nigerian registered ships in maritime transportation. Those provisions have not been enforced since passage of the Act, so the industry is pleased that a concerted effort is underway to trigger the attainment of sections 35 -37  that Nigerian owned and Nigerian registered vessels should operate on international waters and not be limited to domestic trade. The committee has effectively marketed Nigeria to serious shipping companies desirous of participating in international seaborne trade.
Resolution of disputes especially commercial disputes remain one of the major factors considered by investors in any economy. How do you think we can reform our judicial processes to expedite justice delivery and meet this expectation of  foreign investors?
Certainty and confidence in the judicial system supports growth of business. Investors look out for that to assess the security of their investments in any country. Lawyers who advise investors and indeed investors themselves should be able to predict with a reasonable amount of certainty the outcome of certain disputes and duration of matters by a review of Nigerian jurisprudence and available precedence. Consistency, within reasons of course, in judgments will achieve this. Case management by the judiciary which has been developed in Lagos State for instance, should be a nationwide practice and religiously enforced. We lawyers must discontinue the practice of frivolous applications intended only to sustain the status quo which favours the client bearing in mind that the system we help nourish may work against our clients in other matters and that it stymies the growth of a robust economy which would guarantee more clients for lawyers.
 How do we equip our young lawyers to face the challenges of globalization in an ICT age?
Specialization, I would say. Globalization results in more sophisticated businesses which in turn requires specialized knowledge to advise on complex transactions or cases. Law Firms and young lawyers would do well to invest in acquisition of expertise to offer competitive services.
Competitive services
Young ones that as  the millennials should explore how they could use new technology to their advantage. ICT is a tool for growth and must be so approached and who is  better to exploit ICT than the younger ones?
You have been a global player at the International Maritime Organisation ( IMO) and World Trade Organisation ( WTO) level. How do we key in as a country  to benefit from those programmes?
IMO, yes, as the Secretary General of the Port State Control Memorandum for West and Central African Region(WTO). Very tangentially and limited to my membership of the International Bar Issues Commission on International Trade in Legal Services. Current issues for the IMO is around the implementation of IMO instruments which protects and preserves the marine environment while accommodating sustainable uses of the oceans and seas for economic development. The responsibility for ratification, enforcement and compliance with international conventions and instruments lies on member states. That means, Nigeria being a flag State, coastal state and port State is obliged to enact laws and enforce laws that will make it a responsible flag, coastal and port State.