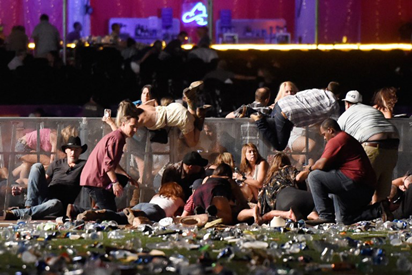 LAS VEGAS, NV – OCTOBER 01: People scramble for shelter at the Route 91 Harvest country music festival after apparent gun fire was heard on October 1, 2017 in Las Vegas, Nevada. A gunman has opened fire on a music festival in Las Vegas, leaving at least 20 people dead and more than 100 injured. Police have confirmed that one suspect has been shot. The investigation is ongoing. David Becker/Getty Images/AFP
After fleeing in terror from a massacre of music fans, Ralph Rodriguez returned to his hotel room to discover that America's deadliest shooting had been carried out under his feet.

After a weekend at Las Vegas' Mandalay Bay hotel, Rodriguez had been enjoying a Sunday night concert by country music star Jason Aldean when gunfire began crackling around the open-air venue.
In an interview with AFP, Rodriguez recounted the terrifying moment the crowd realized they were being raked with bullets by a gunman stationed on the 32nd floor of his hotel.
Rodgriguez, an IT consultant, was staying in the room directly above the shooter Stephen Paddock who murdered at least 58 people before turning a weapon upon himself.
"He (Aldean) had only done two or three songs when we heard what we thought were firecrackers, to the right of the stage. But then it started and it just didn't stop," said Rodriguez, who is from the Pomona Valley, near Los Angeles.
"We saw the lights go out on the stage and the band run off. Just then, all the people that had been standing in the festival area came running, crushing towards us.
"People started grabbing their loved-ones and just strangers, and trying to help them get out of the way.
"It was a horrible experience, but everybody was helping somebody.
"I saw people picking up kids that weren't theirs, I saw people pushing wheelchairs for some people they didn't know. They did whatever they could to get those people out of there," he said.
– 'Incredibly chaotic' –
"Our problem was we didn't know we know where the shots were coming from, so we were running but we didn't know where we were running. It was incredibly chaotic," Rodriguez said.
"Then finally, officers started telling us to keep running towards the exit which was pretty far away.
"Some issues were happening there so we had to give that up, and we ended up at the other corner and had to climb a 10-foot fence," he said.
"We used the guard rails as a ladder and we just started throwing people over and catching them on the other side.
"We saw bodies down. We didn't know if they had fallen or had been shot. Some people we grabbed and they were bleeding," he said.
"We didn't know why — we didn't have time to ask. We said: 'If you can hold it, hold it' and we'd just keep moving."
Eventually Rodriguez managed to make his back to the hotel — a massive casino-resort complex — where he made the grim discovery that Paddock had been staying immediately below him.
Police have now sealed off the room, easily indentifiable from outside as Paddock smashed a window in order to take aim at the crowds below with his arsenal of weapons.
"He's on the 32nd floor, room 134, and I'm on the 33rd floor room 134," Rodriguez said in an interview in the hotel lobby.
"And so today, when the wind blows, his drapes come up and hit my window. Pretty freaky."
As well as the dozens of dead, more than 500 people were wounded in the shooting, the worst in modern US history.
For all the horrors that he witnessed, Rodriguez was grateful that he and his friends had emerged unscathed after reconnecting through the night.
"I'm with a group of about eight to 12 people so all our friends were at different places around the venue. Thank God, they all made it out."