By Chris Ochayi
ABUJA – The incidence of cases of food poisoning due to chemical storage of grains in Nigeria would now become a thing of the past as farmers in the country have been introduced to sophisticated nonchemical crops storage bags to preserve grains.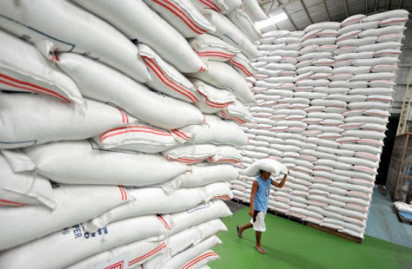 The technology known as Purdue Improved Crop Storage, PICS, bags has put an end to occurrence of wrong application of chemicals in storage of grains, resulting in food poising like "killer beans" and other chemical related preserving method, which have caused a lot of death and harms to many people in the country.
The Purdue Improved Crop Storage, PICS, system was developed by Larry L. Murdock, professor of entomology in the Purdue College of agriculture, and scientists in Cameroon. The research was funded by a USAID program and supported by Purdue's International Programs in Agriculture.
The crop storage system was licensed to Kano-based Lela Agro Industries Nigeria Ltd.
In order to make good use of the technology, the International Institute of Tropical Agriculture, IITA, has organised training for farmers, traders and other stakeholders in Abuja.
Speaking during the training, the Coordinator of Purdue Improved Crop Storage, PICS, project, Abdoulaye Tahirou, said effective use of technology like the PICS bags can allow farmers to earn more profits as they are able to sell when the market is favourable.
Tahirou added the PICS bags technology is a simple and easy to use approach that uses special airtight plastic bags to preserve grains in storage.
He explained "The essence of this training we are doing today is a gathering of agro dealers who across the country are selling the bags but we want to empower them. When people come to buy the PICS bags from them, they are not just selling them the bags but they are able to provide them with the right information on how to use these bags.
"These bags have a specific way of using them that would make them effective. You have to use them in such a situation such that air does not penetrate inside that is the technique that allows the bag to work.
"We also empower those agro dealers in terms of teaching them some simple marketing tools that they can use in order for them to sell more of these bags."
On the specific crops the bag should be used to store, he said, "These bags originally when they were designed, they were designed for storage of cowpeas. When we started promoting them for cowpeas, we noticed that farmers were using them for other crops and they keep asking us, can it work for maize, can it work for sorghum, we didn't have the answer.
"So we designed a second project where a research was conducted and we were able to validate through research that yes the same bags that were used to in protecting cowpeas can be used to protect maize, rice, sorghum, millet, most of the grain crops that are not full of oil can be used in these bags. In addition, a lot dry vegetables are also be stored inside these bags.
He recalled that, "The use of those chemicals especially bad chemicals that are intended for protecting crops in the field they use it for storage. And when people use chemicals to store, they don't wait for the period that they should wait before eating it and that is what causes all those problems of killer beans and so on and so forth.
"And that is what are pushing for so that people should know that it is not magic; all you need to do is make sure you put your crops in that container and don't allow nay air to come in and without air the insect cannot survive and if they cannot survive they will not eat your crop, it is as simple as that.
He said response from farmers using these bags is quite encouraging. In almost all the villages where we have been or where we have done the demonstration, the first thing is surprise, it is really possible to store without using any chemicals and we tell them yes it is possible but all we want from you is that you try it and when people try it, then the response is very enthusiastic.
On affordability, Tahirou said the bag is very affordable, it is cost effective. The bags are being sold in Nigeria now at different prices but I think factory rate is 450 and I don't know what they are selling at the retail points. But I can tell you that farmers are really finding it affordable because they are buying it.
"I won't say it is cheap but it is affordable because it is effective because if you look at the benefits it gives compared to the cost you have to pay. Some farmers find it so valuable that they don't even sell their crops with it, they just use it to store and when they are ready to sell, they put it in another container and sell it."