…Tinubu, Afenifere, Arewa youths laud Alaafin over choice
By Dapo Akinrefon
National Coordinator of Oodua Peoples Congress, OPC, Otunba Gani Adams, yesterday, said he was not too young to be the Aare Ona Kakanfo.
Adams said this at a media parley in Lagos.
This was as National Leader of  All Progressives Congress, APC, Senator Bola Tinubu; the pan-Yoruba socio-political organisation, Afenifere, and Arewa Youths Consultative Forum, said Adams is the right choice for the title.
The Aare Ona Kakanfo designate, however, promised not to compromise his principles despite his acceptance of the title bestowed on him by the Alaafin of Oyo, Oba Lamidi Adeyemi.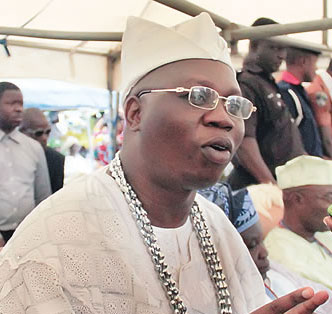 Correcting the impression that he was too young for the title, he said: "Most of the people who have been Aare Ona Kakanfo were not up to 50. Chief MKO Abiola was not up to 50 years when he became Aare Ona Kakanfo in 1988, Chief Samuel Akintola was not up to 54 in 1964 when he was given the title. Apart from the two I mentioned, most of the Aare Ona Kakanfo were younger because, according to the history of the Yoruba race, they always look for a courageous young blood that can face external aggressors.
"It is not about the age, it is about your charisma, determination, loyalty to the Alaafin of Oyo, focus and your interest in the cause of Yoruba race. Those are the factors that are usually considered.
"When I told Kabiyesi I was ready, he called me the second day that I should send him my bio data which I did. He promised to consult with traditional rulers and political stakeholders in Yoruba land on the title. That was in June this year.
"The Aare Ona Kakanfo is a position of service to Yoruba land, one can only attain the position as a freedom fighter, philanthropist. Abiola attained it in 1988 as a philanthropist, Ladoke Akintola attained it as Premier of Western Region.
"The Kabiyesi considered me because I promote Yoruba culture. When people the Kabiyesi consulted called to inform me, I told them I was not desperate but that I was ready to serve the Yoruba race.
"I have been involved in service to Yoruba race since March 15, 1999 when I became the National Coordinator of the OPC."
Aare Ona Kakanfo will moderate my radicalism
The OPC leader also disclosed that the title will moderate his radicalism.
He said: "The Aare Ona Kakanfo will moderate my radicalism. I am ready to mend fences and resolve any situation or any issue I have with any Yoruba person and Nigeria in general, but I will not compromise my principle. As Aare Ona Kakanfo I intend to promote the unity and culture of Yoruba."
He also promised to embark on a mend fencing mission with all and sundry.
"Within a short period, I will meet Asiwaju Bola Tinubu and I will meet with Chief Olusegun Obasanjo. When you are fighting a cause, you will disagree to agree, I can tell you that this position will moderate my radicalism and it will not cow the course I believe in. I will fight for justice of the Yoruba and Nigerian people. I can assure you that I will not betray the course of Yoruba people.''
Tinubu congratulates Gani Adams
Senator Bola Tinubu, yesterday, congratulated Otunba Gani Adams on his appointment as the next Aare Ona Kakanfo of Yorubaland.
Tinubu in the congratulatory message issued in Lagos said Adams richly deserved the appointment. He said Adams had never left anyone in doubt over his resolve to fight for the interest of Yoruba race.
He said: "I congratulate you on your appointment as the next Aare Ona Kakanfo of Yorubaland. With this, you have joined the elite rank of generalissimos in Yorubaland.
"You deserve this honour. You have a heart of steel. You have never left anyone in doubt about your resolve and readiness to fight for and defend the interest of Yoruba race.
"In Yorubaland, particularly in the old Oyo Empire, the position of Aare Ona Kakanfo has always been a significant one.
Tinubu said as the 15th Aare Ona Kakanfo and going through the list of those who had occupied the position, Adams "comes with an extra youth, vigour and vitality, which would be an added advantage.
"I rejoice with you and wish you well as you assume this leadership mantle and forge ahead in the service of our people," he said.
Tinubu, a former Governor of Lagos also commended the Alaafin of Oyo, Oba Lamidi Adeyemi for the appointment of Adams as the Aare Ona Kakanfo.
"I congratulate you Kabiyesi, Iku Baba Yeye, over the appointment of Otunba Gani Adams as the 15th Aare Ona Kakanfo of Yorubaland.
"You have accomplished another important task. You have broken the 19 years hiatus in picking another nominee for this prestigious title.
Afenifere, Arewa youths also laud Alaafin
Also, Afenifere said the choice of Adams is a rightful one "given his contributions to the defence of Yorubaland and the growth and development of its culture."
In a statement by its National Publicity Secretary, Mr Yinka Odumakin, Afenifere said Adams  represents the quintessential Youruba spirit that "you can by dint of hardwork rise from humble beginning to the greatest height as your zenith in life is not a function of your background."
Afenifere stated that "as he accepts the responsibility of the Aare, Afenifere prays to God to grant him the wisdom,courage and character to carry out the functions of his office. And may He grant him longevity of life. "
On its part, the AYCF in a statement, by its National President, Mallam Usman Yerima, said: "Adams' choice for the exalted position is commendable as it is now clear that the youths are now being considered for leadership position in our country that is being dominated by recycled old and weak people."
According to Yerima, the Alaafin's action has given the youths of Nigeria hope and confidence that they are truly leaders of tomorrow, just as he urged other leaders in the country to emulate the revered first class traditional leaders by fishing out outstanding youths in their domains for positions of authority.