By Ola Ajayi
Ibadan—THE head of Seriki line in Ibadan traditional institution, Chief Adebayo Oyediji, who lost the Olubadan stool to His Imperial Majesty, Oba Saliu Adetunji, has taunted both the governor and the monarch that nemesis has at last caught up with them for denying his lineage the coveted stool.
Seriki line had opposed the installation of Oba Adetunji as the next Olubadan saying the rule guiding the chieftaincy title which states that it will be the turn of Seriki line to assume the throne if two chiefs died in succession should have been adhered to.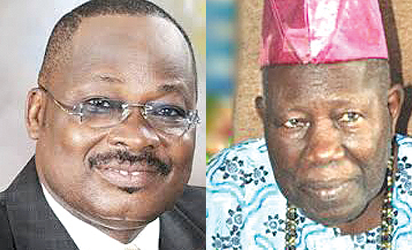 While Chief Seriki maintained that the monarch had breached the agreement by his installation, he alleged that the governor too had erred by allowing it and also striking out the Seriki line in the traditional hierarchy of the city.
The nonagenarian said it was not fair for the governor to strike out the line saying by the move, the governor had allegedly contravened a 1989 Supreme Court order which he said, had recommended that the Seriki line be incorporated in the Olubadan Chieftaincy lines.
He added that based on the Supreme Court judgment, a lower court had granted an injunction dated November 2008, by Justice M. O. Ishola which "restrained the Oyo State governor, Attorney General and the then Olubadan from selecting, appointing, or promoting any person into any vacancy existing or may later exist in the Ekerin Olubadan, Ashipa Olubadan, Osi Olubadan, Otun Olubadan and Olubadan chieftaincies pending the hearing and determination of the originating summons filed by the claimants in Suit No I/421/07, the nonagenarian said that successive governors had continued to violate the court order to the detriment of the Seriki family.
Chief Oyediji and other Seriki chiefs have been fighting through the instrument of court to retain their position in the Obaship of Ibadan for almost 40 years.