By Vincent Ujumadu
THE Indigenous People of Biafra, IPOB, has faulted the statement credited to the former Nigerian military head of state; General Yakubu Gowon (rtd) over the Aburi Accord reached between him and the late Biafra leader, Dim Chukwuemeka Odumegwu Ojukwu, accusing him of deliberately covering the truth.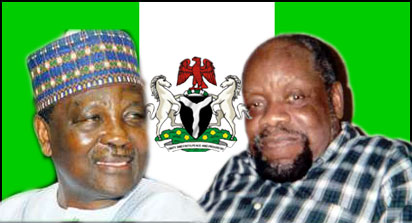 A statement by the media and publicity secretary of IPOB, Comrade Emma Powerful said it was unfortunate that at the ripe old age of 83 years and with the little window God had left open to Gowon to repent and show remorse, he still preferred to tell lies on the issue of the Aburi agreement.
Recalling that it was Gowon's government that supervised the civil war that claimed no fewer than three million lives, mostly as a result of blockade and starvation, IPOB claimed that it was the former Nigerian leader that reneged on the Aburi Accord because a foreign power persuaded him to reject the accord.
The statement said: "Gowon was the man who seized all minerals from the regions and vested all in the central government. He was the man who proscribed the regions and created states by military fiat. He was the man who led the war on African soil and it is unfortunate that he has chosen to continue to deceive people with bouquet of falsehood.
"Gowon acknowledged in over a dozen published works, long before now, that super permanent secretaries and two foreign powers persuaded him to reject and renege on the Aburi Accord. He had previously admitted that implementing the agreed Aburi Accord would whittle down his powers as head of state, as all the regions would have to agree before any major decision was effected. Now he wants to heap lies on Ojukwu, because Ojukwu is no more.
"History has documented that Gowon reneged on Aburi Agreement because he was assured by a certain colonial power that Ojukwu's people should be crushed militarily, so that same colonial power would have unrestricted access to exploit the oil in Biafraland.
"Shell and BP acting through Harold Wilson the then British Prime Minister did not want Aburi Accord implemented. It was the Labour Party government of Britain that cleverly convinced the Arewa North to put pressure on Gowon to feign illness, thereby making it difficult for him to tell the country what was agreed in Aburi.
"Today, Gowon whom we are made to believe is a prayerful Christian, has said he was not able to speak when he returned from Aburi because he was ill. The question is: Was his information minister also ill? Were all government spokesmen in Lagos also down with illness at the same time that made it difficult for Lagos to make a pronouncement on Aburi Agreement several weeks after the meeting?
"Gowon's decision to hold on to self evident falsehood is shocking. Gowon's choice, of insisting on deception, even at the age 83 while heading a prayer club is unfortunate and sad.
"The administration he headed slaughtered over three million Biafrans to unite Nigeria because of crude oil and gas and not out of patriotism. Had his motive been altruistic, he would have been honourable enough to publicly announce, upon his return to Lagos, what he agreed with Ojukwu in Aburi, Ghana. The question we must ask is, five decades later, is Nigeria united? Gowon dismantled regional structure and created states, are the states viable?
"Gowon's pathetic attempt to rewrite history would have worked had IPOB not been in existence. This day and age, any attempt to rewrite the history of Biafra-Nigeria war will be intellectually resisted and objectively dismantled. Fake history is at the core of why Nigeria will never be united.
"We are IPOB and we won't allow distortion of historical facts, neither will we allow the denigration of the revered memory of our all time hero, Dim Chukwuemeka Odumegwu Ojukwu. He remains till date, the only man that tried to bring genuine independence, not mere flag independence, to an African nation."