…As he launches  ONDIPA
By Yinka Ajayi
The Ondo State Governor, Mr. Oluwarotimi Akeredolu, SAN, has assured investors of his undivided attention in making sure that Memorandum of Understanding signed with Ondo State Development and Investment Promotion Agency (ONDIPA) would be strictly adhere to.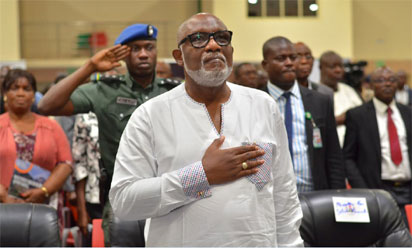 Speaking at the Inauguration of ONDIPA on Thursday in Akure, Akeredolu said the state has no reason to rely on federal allocation from Abuja before she could meet her commitments to the people if the large deposits of mineral and agricultural resources in the state are well annexed.
According him:" I am assuring investors that whatever Memorandum of Understanding (MoU) we sign with you will be fulfilled with sanctimonious attention.
We would not compromise integrity.  In three years, we want to see Ondo being the number one destination of investors in Nigeria. We want to export our cash crops and mineral resources to reduce pressure on our naira to boost our foreign exchange. My office is opened to investors.
The office of ONDIPA is even beside my office" he stated.
"We have the largest deposit of limestone in Nigeria; let me inform this gathering that Ondo has the largest deposit of bitumen in Africa and second in the world. The first company for Bitumen Exploration and Processing in Nigeria will commence operation in our state before the middle of 2018.
"Being the largest producer of oil palm and cashew nut in South West. We have dedicated 150,000 hectares of land to boost cocoa, oil palm and cassava in Ondo State. We have major cash crops; maize, rice, soya beans, citrus, plantain; coffee, cowpea; we have the highest load of granite in South west. We have large rubber plantations, we are the 4th largest producer of oil and gas in Nigeria, we can use gas to power of electricity.
Adding that: "We are also the hub of tourism. The Smoking Hills and golf resort at Ilaramokin is the largest in Nigeria and the third largest in Africa. The longest hill on the continent of Africa is here.
Ebomi Lake Tourist Centre is here. The International Culture and Event Centre (DOME) where we are hosting this event is the biggest in South West.
"We just signed a memorandum of understanding with Niger/Delta Development Commission (NDDC) for the construction of 45km Araromi-Epe road to be completed before the end of 2018" he stressed.
Assuring the investors of their safety in the state, Akeredolu said "Our mandate is to ensure private sectors have no problem doing businesses in Ondo State."