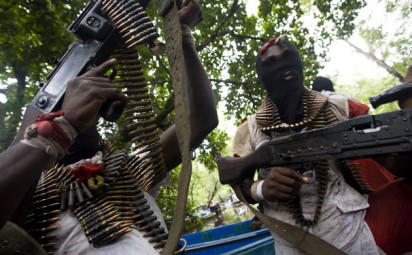 File: Militants
By Davies Iheamnachor
PORT HARCOURT—Federal Government has settled 73 ex-Niger Delta militants in Rivers State with fish ponds, crop farms and poultry.
The amnesty beneficia-ries, who had completed training at Songhai Farms on various agricultural enterprises, were handed the needed facilities to commence farming in their chosen fields.
Special Adviser to the President on Niger Delta Affairs, who is also the Coordinator of Presidential Committee on Amnesty Programme, Brigadier-General Paul Boroh (retd), while commissioning the farms at George-Ama, Okrika in Okrika Local Government Area of the state, weekend, noted that agriculture has become an alternative source of revenue for the nation.
Boroh stated that agriculture has the potential to provide sustainable development and improve the socio-economic lives of the people of oil-rich region, adding that different programmes of the amnesty had sustained peace in the region.
Speaking at the event, Secretary of Pan-Niger Delta, Chief Anabs Sara-Igbe, in his address, disclosed that the amnesty office had awarded 10 major contracts to also empower over 3,000 ex-militants in the region.