By Sola Ogundipe
A CAMPAIGN for access to free diabetes screening, and diagnosis with referral services for low income earners in Lagos was launched recently by Novo Nordisk, a Danish company.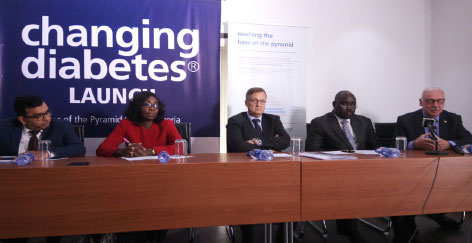 Data from the International Diabetes Federation, IDF,  show that the number of persons  having diabetes but are  undiagnosed is higher than anticipated because the disease is on the increase and most of those suffering or are at risk, are often unaware.
It is estimated that six out of 10 Nigerians that are diabetic are unaware  while less than one in 10 diabetes patients are on treatment.
According to the Vice President for Africa & The Gulf, Novo Nordisc, Mr Mads Larsen,  the screening exercise is targeted at Nigerians with poor access to care.
Larsen said whole idea is to improve diabetes diagnostic rates through integration of diabetes screening into  routine general health services in Nigeria.
The 1st Phase for six months targets 82,500 people for screening in 18 selected health facilitiesand blood glucose tests for 40,000 of those at risk.
In Nigeria, of 1.56 million of those with diabetes, just 610,000 or 39 per cent are diagnosed, out of which 310,000 (20 per cent) are receiving care. Of these, 150,000 (10 per cent) are achieving target treatment while just 77,000 (5 per cent) are achieving the desired outcomes.
Currently, 1.56 million adults or 2.3 percent of the adult Nigerian population aged 20-79 years and above are known to have diabetes. Almost 40,800 adults were estimated to have died from diabetes related diseases in 2015, averaging 112 deaths per day. and there are fears that the number of Nigerians with diabetes could grow by 111 percent by 2040.
The Danish Ambassador in Nigeria, Mr Torben Gettermann, assured that with a vibrant and active pharmaceutical industry, Denmark was fully supporting Nigeria's campaign against diabetes.
Gettermann said that his home government would continue to encourage more Danish companies to collaborate with Nigerian private and public sectors.
"We would continue to open our doors to Nigeria in terms of promoting bilateral cooperation between our two countries.
"Nigeria is one of the important countries in the world that our government strongly believed in," he said.
The Chief Medical Director, Federal Medical Centre, Ebute Metta, Dr. Adedamola Dada, who represented the Minister of Health, Prof Isaac Adewole, called for a multi-sectoral approach to combating diseases in the country.