By Yinka Kolawole
VICE President, Yemi Osinbajo, yesterday, in London, said the Federal Government was undertaking extensive reforms in its 'ease of doing business' initiatives, barely five months after he signed executive orders for the initiatives which is aimed at improving the business environment in Nigeria.
A statement made available to Vanguard by Laolu Akande, senior special assistant to the vice president on media and publicity, noted that Osinbajo made the remark at the Financial Times Africa Summit held at the Claridge's Mayfair Hotel in London.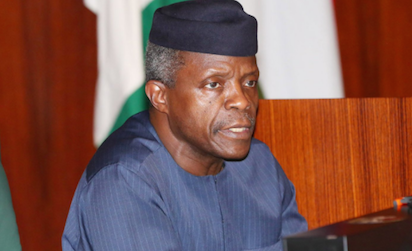 He said the government has been working assiduously to improve macroeconomic conditions in the past months, adding, "After a continuous slide in growth since 2014, the trend of growth in GDP has turned around with a modest growth of 0.55 percent in the second quarter of this year while inflation, though still somewhat high, has declined from its peak of 18.7 percent in January 2017 to about 16 percent today."
Speaking to a global audience made up of international business leaders, investors, public sector officials, media gurus and intellectuals, the vice president noted that 'the outlook going forward is quite positive based on improvements in oil prices and production and the trend of leading indicators such as positive purchasing managers indices, a revived stock exchange and increasing foreign exchange reserves."
He drew attention to the significant progress achieved in the ease of doing business initiative of the Federal Government.
Osinbajo stated: "In the first stage, reforms were introduced under a 60-day national action plan focused on eight areas that make it easier to register businesses, obtain construction permits, get credit, pay taxes, get electricity, trade across borders, facilitate entry and exit of people and register property.
"Practical examples of success include leveraging the use of technology to fast track business registration and payment of taxes, a functioning, tried and tested 48-hour electronic visa procedure and an Executive Order mandating greater transparency and efficiency across all government agencies. The reforms have led to reduction in cost and time, as well as greater transparency for small and medium sized enterprises in particular.
"Following the 70 percent success rate achieved in the first phase of the ease of doing business reforms, we recently embarked on a second national action plan which will have 11 areas of focus and will run for 60 days from October 2017."
The summit was also attended by a number of Nigerian dignitaries including Governor Godwin Obaseki of Edo State, the Emir of Kano, HRH Sanusi Lamido Sanusi, Minister of Information and Culture Alhaji Lai Mohammed, Alhaji Aliko Dangote, and Mr. Yemi Cardoso among others.