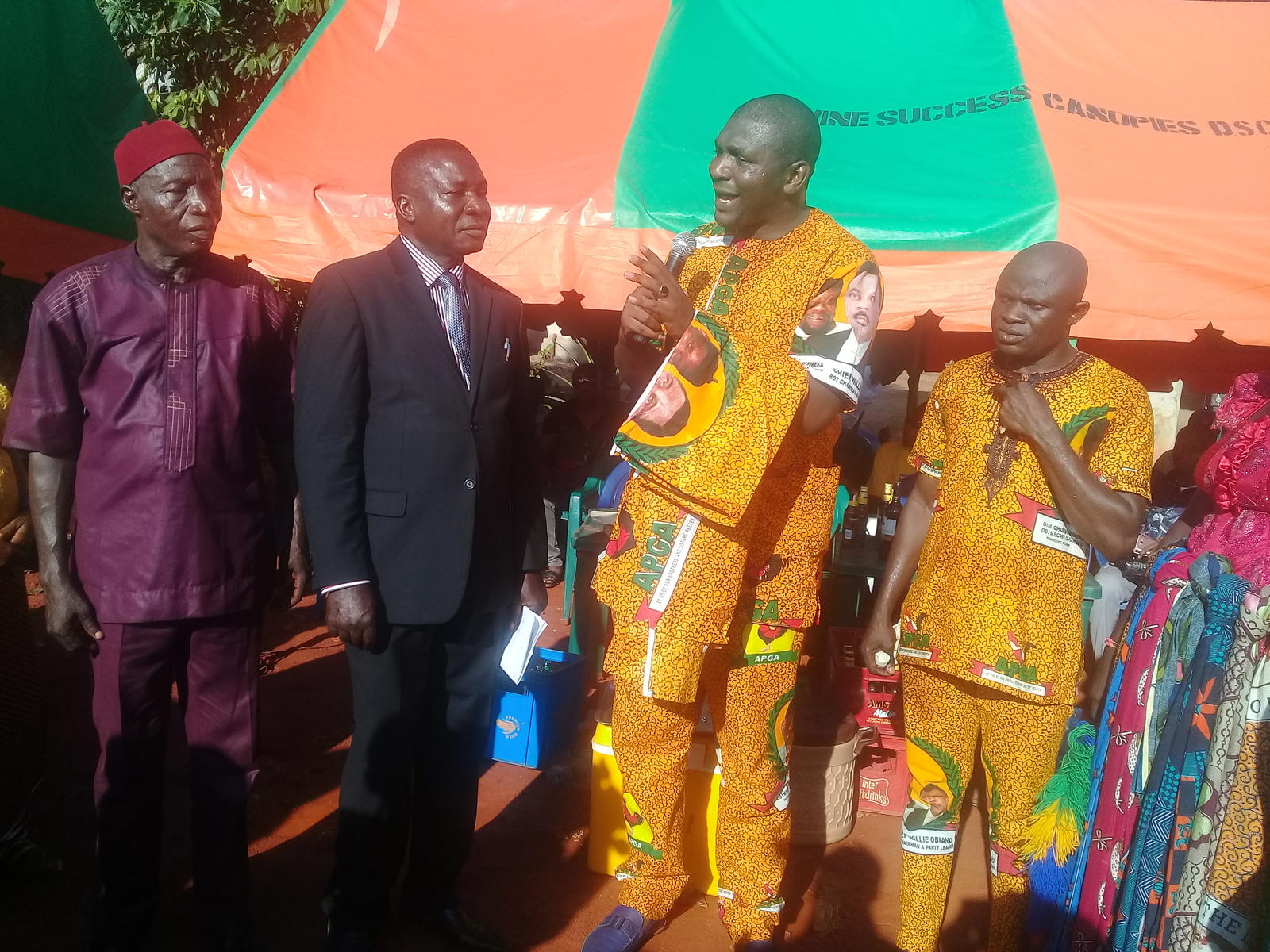 By Nwafor Sunday
Following the commissioning of an electricity project built by Hon John Machie, Anambra east local government liaison officer, commissioned by Hon Obinna Emenaka in Nando, Anambra state, report has it that the former Anambra PDP legal adviser, Bars Eugene Agbasionwe with his supporters has dumped Peoples Democratic Party, PDP and defected to All Progressives Grand Alliance, APGA, saying 'thank God am relieved and out from evil party.'
Bars Eugene Agbasionwe was the former State legal Adviser of PDP, former Anambra east local government Secretary and former Deputy Chief Registrar Anambra State judiciary.
In his speech, Bar. Eugen said, "I thank God for coming to APGA, PDP is full of evil deeds and evil demands.  I thank God that today I have rejected them and now joined other progressive minded Igbo in APGA to build Anambra state.
"Frankly speaking, Governor Willie Obiano has performed excellently well in his first term and deserves to be re elected for a second term."
However, Hon Obinna Emenaka while commissioning the electricity project charged the people of Nando to vote for APGA in the forthcoming November 18th election.
He said that the people of Nando benefited immensely from Governor Obiano's democratic dividends, thus the reason they should vote for him on November 18th to continue with his good works for the people of Anambra State.
He commended Hon John Machie for executing the electricity project and said that for the fact that he remembered the people of his ward with his small position that God will take him to a higher level.
Similarly, Bars Eugen lauded c for his effective representation of the people of Anambra east constituency at the State House of Assembly, noting that God will bless him immensely.
Furthering his speech, Hon Obinna Emenaka asked the decamped members if they have rejected PDP and all their evil deeds and they chanted a loud yes.
He then decorated Bars Eugene Agbasionwe with APGA uniform and assured the decamped members of equal treatment in APGA and promised them that nobody will treat them as new entrants to the Party.
Hon Obinna Emenaka finally charged decamped members to go and spreading the good news of Governor Obiano's administration dividends of good governance delivery in their wards and to also work assiduously for the Governor's re election.