By Ikechukwu Nnochiri
ABUJA – The Federal High Court in Abuja, on Wednesday, gave the Economic and Financial Crimes Commission, EFCC, the nod to take possession of 14 choice properties belonging to former Minister of the Federal Capital Territory, Senator Bala Mohammed.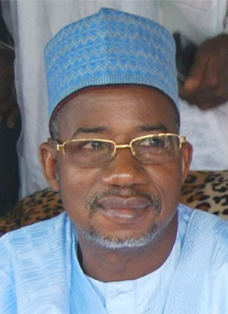 Justice Nnamdi Dimgba granted the interim forfeiture order based on a motion ex-parte the anti-graft agency filed through its lawyer, Mr. Ben Ikani.
EFCC is prosecuting the former Minister and his son, Shamsudeen, on separate corruption charges bordering on abuse of office and money laundering.
While the ex-Minister is answering to a six-count criminal charge before an Abuja high court at Gudu, his son on the other hand is facing 15-count money laundering charge before the Federal High Court.
Shamsudeen is facing trial alongside four firms- Bird Trust Agro Allied Ltd, Intertrans Global Logistics Ltd, Diakin Telecommunications Ltd and Bal-Vac Mining Ltd, which the EFCC said were used to launder over N1.1billion.
EFCC alleged that the duo, in a bid to conceal stolen funds at their disposal, resorted to acquisition of houses within the high brow areas in Abuja.
It told the court that Shamsudeen paid cash for five plots of land and four other choice properties in Abuja.
Meanwhile, some of the assets traced to him, which EFCC secured order of the court to confiscate, included five plots of land at Asokoro Gardens; House FS 2 B, Green Acre Estate Apo-Dutse, Abuja; House FS 1A, Green Acre Estate, Apo-Dutse; FS 1B, Green Acre Estate, Apo-Dutse, Abuja and House 2A, No. 7, Gana Street, Maitama, Abuja.
EFCC told the court that some of the properties were acquired through proxies, including one Maimuna Aliyu who allegedly helped the defendants to purchase about four sets of 4 bedroom fully detached duplexes with Boys Quaters.
Other properties the court ordered forfeited to the EFCC are 1.45 hectares of land at Industrial Area 1 Extension Abuja, 2.7 hectares of land at plot 4525 cadastral zone at Guzape Abuja, 1.26 hectares of land at 1261 cadastral zone C16 at Industrial Area/Extension, Plot 2643 at No 9 Platinum Luxury Home White Estate (1.26 hectares).
As well as an uncompleted building at Plot 1804 Damaturu Crescent off Ahmadu Bello Way Garki II Abuja.
According to the agency, the defendants paid for the assets in excess of the statutory limit, without recourse to any financial institution.
Aside allegation that he failed to declare his assets when he completed the EFCC Asset Declaration Form A, the ex-Minister's son was further accused of concealing four accounts he operated with Standard Chartered Bank.
EFCC gave the said account numbers as 0001857597, 5001214708, 0000895037 and 000895020.
The prosecuting agency, in a supporting affidavit that was deposed to by one of its investigators, Mr. Ishaya Daudu, told the court that the properties were proceeds of crime.
"That some properties reasonably suspected to be proceeds of unlawful activities and crime kept and concealed in name of proxies and nominees of the former Minister of FCT, Bala Mohammed and his son Shamsudeen Bala Mohammed and for their benefit, have been recovered and seized.
"That preliminary investigation has revealed that the properties listed on the schedule were unlawfully acquired through corrupt practices by the former Minister of FCT, Bala Mohammed and his son Shamsudeen Bala Mohammed", EFCC added.
Meanwhile, aside ordering interim forfeiture of the properties, Justice Dimgba ordered EFCC to publish in a national daily and on its website, inviting all persons/bodies who may have interest in the properties to show cause why the said properties should not be permanently forfeited to the federal government.
EFCC predicated its motion on section 17(1) and (3) of the Advance Fee Fraud and other fraud related offences Act, 2000 and section 6(6) of the 1999 constitution, as amended.