Ediri EJOH
THE nation's poor economic situation may worsen as it losses over N534 billion yearly to inefficiency of the power sector, Managing Director, Seplat Petroleum Development Company, Dr. Austin Avuru, has said.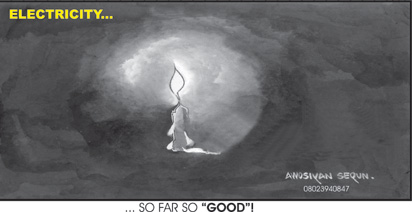 This was even as he identified a huge deficit of about N356bn incurred from debts owed banks by the Electricity Generation Companies, GENCOs, in the third quarter of 2016.
Disclosing this at the 7th Emmanuel Egbogah Legacy Lecture Series in Lagos, the Seplat boss said that Nigeria continues to lag behind in its electricity consumption despite huge proven gas reserves estimated at 192 trillion cubic feet, TCF.
"If you look at our power sector, especially in relation to gas, there is infrastructure deficit. The Electricity Distribution Companies, DISCOs network is just about 20 per cent of what it should be, even on transmission, Transmission Company of Nigeria, TCN, has a record of 10 per cent loss on the grid, while distribution is about 50 per cent loss on the grid.
"We have 4gigawatts,GW, generation versus an installed generation capacity of 12GW. We have huge gas resources stranded in the Niger Delta. The generating companies today are indebted to banks to the tune of N356bn. Over half a trillion naira, N534bn revenue was lost by the power sector in 2016. As I said earlier, 50 per cent of the power generated is lost in distribution.
"Consumers owe almost half a trillion naira. Between 2015 and 2017 alone we created a liquidity gap that is almost $3bn coming largely from a tariff that is inadequate and losses that are as high as 50 per cent."
He also identified other challenges such as low domestication of gas resources, ailing power sector and abysmal level of domestic refining as banes on the nation's economy.
"Between 2015 and 2017, 18 months of regulatory lacuna disorganised the power sector reform program: created operational indiscipline, truncated MYTO, created a huge liquidity gap of over N1 trillion. The mess is now difficult to reverse, ineffectiveness of Nigeria Electricity Regulatory Commission, NERC, fostered by a vacuum in the position of Chairman since December 2015."
On the petroleum sector, he attributed current downturn in Nigeria to weak regulation, adding that: "strong regulation is imperative to recover losses incurred over the past and then puts the industry in a better light that would attract investors as well as best practices."
He stated that oil price collapse and conservative long term views present a compelling case for Nigeria to optimise domestic utilisation of hydrocarbon resources.
"Oil and gas sector is still expected to play a major role in revamping the economy through restoring oil production and gas revolution, among other aspirations in the 7 Big Wins and ERGP"