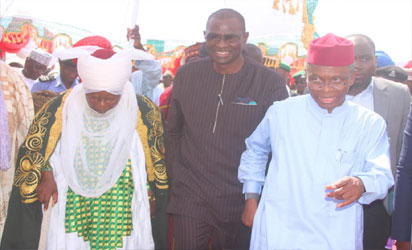 Kaduna state Governor, Mallam Nasir Ahmad El-Rufai commissioning the school
Quality education has the power to transform society in a single generation; provide children with the protection they need from poverty, exploitation and disease; and give them the knowledge, skills, and confidence to reach their full potential. Real quality in education is fundamental to the quality of the human resource of the nation which is responsible for delivering products and services to the community.
In Nigeria, government funded schools have practically collapsed over the years because of poor funding leaving children from poor homes with nowhere to go but the streets.
According to United Nations International Children's Fund (UNICEF), no fewer than 10.5 million Nigerian children are out of school. This alarming estimate calls for more deliberate attention, action and support from both government and private sector to provide quality education for our leaders of tomorrow.
In response to this clarion call, telecommunication giant Airtel Nigeria have since 2011 made it as part of its Corporate Social Responsibility (CSR) commitment to improve the standard of education in the country and to also appeal and encourage more students to go back to school through its Adopt-A- School initiative.
Since the initiation of the project, Airtel has adopted five primary schools spread across Nigeria, namely Oremeji Primary School II, Ajegunle, Lagos; St. John's Primary School, Oke-Agbo, Ijebu-Igbo, Ogun; Community Primary School, Amumara, Imo; Iyeru Okin Primary School, Ilara-Mokin, Kwara and Presbyterian Primary School, Ediba, Cross River State. On Wednesday, 27 th September, 2017 the company announced the adoption and commissioning of Yahaya Hamza LEA Primary School, Zaria, Kaduna State.
The adoption which follows the recent announcement of the UN report that 60% of Nigerian children not attending school live in the north of the country, shows the unrelenting commitment of Airtel to contribute its quarter in building a better, united and more prosperous Nigeria.
According to the Chief Executive Officer and Managing Director of Airtel Nigeria, Mr. Segun Ogunsanya, "Over the years, Airtel has brought notable transformation to these schools by providing ultra-modern blocks of classrooms, borehole for portable water, classroom furniture and also donating items such as uniforms, bags and educational materials like books, textbooks and pens on a yearly basis. It is a complete package. Not a one- year wonder but a continuing partnership.
"We believe good education is a human right. It is a ticket to prosperity. It creates a level field for everyone to succeed. In recognition of the role education plays in the development of a community, Airtel Nigeria has decided, as part of our Corporate Social Responsibility vision, to adopt Yahaya Hamza Primary School in Zaria.
Ogunsanya noted that good education is a human right, describing it as a ticket to prosperity since it creates a level field for everyone to succeed. He further noted that Airtel's adoption of schools is not a one-year wonder but a continuing partnership.
The Executive Governor of Kaduna State, Mallam Nasir Ahmad El-Rufai, who led the commissioning, commended Airtel Nigeria for its role in the development of primary education across the country.
Speaking at the commissioning of the newly rehabilitated Yahaya Hamza Primary School in Kaduna, the governor thanked Airtel for adopting a school in the State and for its support to primary education in Nigeria.
According to him, "with Airtel's intervention, the new Yahaya Hamza Primary School has been transformed – complete with 6 blocks, 12 classrooms, desk and chairs, teachers' offices, white boards, borehole facilities and toilets for male and female students as well as teachers. Students, today, also got complete set of uniforms, bags and books.
"I urge other stakeholders in Corporate Nigeria to emulate Airtel by partnering with the Kaduna State government in supporting educational initiatives."
The governor also expressed delight at Airtel's choice of Yahaya Hamza primary school, noting that it signifies the preservation of the legacies of a great man, a teacher, a role model, a leader and an inspiration, Yahaya Hamza.
He also said that Airtel's intervention is a gift that aligns with Kaduna State's goal of developing primary, secondary and tertiary education.
"The Kaduna State Government thanks Airtel for offering its widow mite and contributions in our quest to revamp education in the State," he said.
The commissioning ceremony was attended by several dignitaries including the Emir of Zazzau, Alhaji Shehu Idris and Zaria City representative at the State House of Assembly, Hon. Kasim Iliyasu, among others.